The Forgotten Social Network (Updated: October 2019)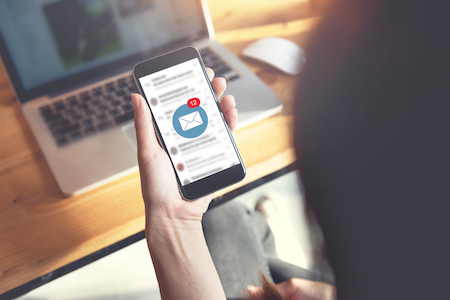 For all the talk about the importance of social media marketing — and social remains incredibly important – there's one social medium that connects you directly with your customers, produces above average results, is easily measured and gets all-around love from its practitioners: email marketing.
What? You think email isn't a social network? Let me ask you, where do you spend most of your day talking with friends and family, colleagues and customers? Most users forward information to their network on the regular. Put simply, email may be the most social network you use every day. 
Even better, email is still one of the most productive marketing channels around. According to a survey done by the Content Marketing Institute [PDF link], 40% of B2B marketers say email newsletters are most critical to their content marketing success, ahead of search, offline, affiliates, other social channels and so on.
Why is it so popular?
Adobe's 2018 Consumer Email Survey says that the time people spend checking their personal emails every day is up 17% year-over-year. It's also the most common online activity regardless of age (search is typically either tied for first or is #2). So you're likely to be able to connect with your customers regardless of which demographic cohort they belong to. Everyone uses email. Recent statistics show Microsoft Outlook has more than 400 million active users. And Gmail leaves Microsoft in the dust, with over 1.5 billion active users.
In my own experience, email marketing frequently outperforms other media in terms of conversion and revenue per sale too. I'm not alone on this one. A recent Emma survey showed that 59% of marketers say email is their biggest source of ROI.
Of course, you can't succeed with email until you build your network – your list. 
Without a List, You Have No One to Market to
There's an old rule of thumb about the value of each element in your email marketing campaign, which breaks down something like this: 40% of the value is in your list, 35% is in the subject line, and the remaining 25% belongs to the message body. This underscores the simple fact that, without a list, you have no one to market to. 
But don't let those numbers surprise you. It may seem weird that only a quarter of the value of your entire campaign is the content itself. But it makes sense if you think about it. You're typically going to be better off sending a less-than-perfect message to the right audience than sending a perfect message to the wrong audience. And you can't do that until you have a great list. That's why building the right list is essential for your business. 
Given that the most important part of your campaign is your list, it's important to gain a solid understanding of who these folks are. Who are you trying to reach? What do they care about? If you can answer these questions you are well on your way to getting your emails — and, more importantly, your business — in front of the right people.
If Your List Isn't Growing, It's Shrinking
The biggest downside of email marketing of course is getting your customers to sign up for it. You can't have much of a social network, forgotten or otherwise, if no one connects with you in the first place. And far too many businesses I know fail to measure email signup as a conversion action on their site. Lucky for you that you're not one of them, right? Make sure you're tracking email sign-ups from your web presence to see where you have opportunity to improve. (You can also check out these tips for how to increase your opt-in list). 
Research we've conducted with clients across a range of industries shows that each email collected represents an increase in future revenue of anywhere between a low of $12 and as much as $225. Yes, that's an extremely wide range; the value of your list has a lot to do with the average revenue per customer, which, as you might imagine varies widely based on what you charge customers for your various products and services. For any given customer, those numbers will be much closer (usually within $10-25 of one another). If you're interested, we can help you come up with the actual number for your business as part of a complete marketing effectiveness audit.
Of course, you aren't done once your customers do sign up. There will still be a pretty consistent rate of people who churn — that is, unsubscribe, opt-out, get a new email address, or what-have-you. And that means that you're losing email audience all the time. Churn rate runs at roughly 30% on average, but that number can vary wildly depending on many factors. 
What this means in practice is that, literally, if your list isn't growing, it's shrinking.
Another problem? Churn rate isn't the only enemy your email marketing faces. Every list has it's fair share of subscribers who experience list fatigue. These are folks who simply get tired of your emails, for any number of reasons. They don't unsubscribe, but they don't open or click or read or share either. These folks drag down your overall performance and represent even greater shrinkage than just your churn would lead you to believe. 
List fatigue, from our experience, is likely at least as high as churn rate. Your email list is not only a forgotten social network, it's a shrinking one — and it's shrinking much faster than you think. 
How to Make the Forgotten Social Network Work 
Got a great list? Good. Now you need to get the people on that list to actually open your emails, which they won't do without a compelling subject line. One great way to make your subject lines more compelling is to use your customers' first name in the subject. Research shows that emails with the customers' name in the subject have an open rate roughly 20% or higher than those that don't. And a number of tools exist to help you interpret the sentiment your email subject lines cause among recipients to help you drive even greater response. 
If you get the right list and subject line in place, it's remarkable how little heavy lifting is left for your offer. That doesn't mean you should ignore it, of course. Be sure to check out the clickthrough rates from each email you send and analyze which messages consistently resonate — and which ones should be put back on the shelf. 
Targeting the Forgotten Social Network
It's easy to get caught up in the urge to send your emails to as many of your subscribers as possible. The more people who see your content the better, right? In practice, turns out, not so much. Even if customers have already signed up to receive something from your website, that doesn't mean they want everything you send out in your emails. 
Sending all of your email content to everyone on your list every single time typically increases churn rate and list fatigue. Think about it this way: When you need to send a message to one of your colleagues or friends, you don't copy your entire company or family on every email, do you? Social is people. Social is human. Treat the members of your list the same way and don't send email blasts; instead send content that they may actually want.
Instead of sending to everyone on your list each time, send emails somewhat more often to a smaller set of folks in your list. By segmenting the list of people who already told you they want your emails, you can ensure that those people are getting content that is more relevant to their interests and needs. This way, you will be at the top of their mind rather than at the bottom of their spam folder.
This is how you can start personalizing your content. We know that personalization is a great way to connect with your customers and to ensure that your services are more useful to them than your competitors. Applying this approach to your email lists is the next step in truly making personalization work for you — and for your forgotten social network. If you're keeping an eye on your email data, you can see exactly which parts of your list interact with which messages to more effectively target your content to your customers' needs and interests. Use this information to segment your list into smaller, more specific groups. Then use those segments to show your customers they're not forgotten folks, but warmly remembered friends. 
Conclusion
I know email isn't the sexiest topic. Some might even call it, oh, I don't know… a forgotten social network. But even if you've taken it for granted, email is the little (social) marketing channel that keeps on giving. So as you move forward with your social media marketing and with search and with mobile and with whatever comes down the pike next, make sure you're not treating your email list as a "forgotten social network," but as a key component of your social media marketing — and digital marketing — strategy overall. Because when you put it to work for your business, you'll find you can produce results you'll never forget.
Past Insights from Tim Peter Thinks
If you're looking to learn even more about how changing customer behavior will shape your marketing going forward, be sure an register to receive a special report I've produced in conjunction with hotel marketing firm Vizergy, "Digital Hotel Marketing in a Multiscreen World." While it's targeted specifically at hotel and resort marketers, the lessons apply to just about any business. You can get your free copy of the report here.
You might also want to check out these slides I had the pleasure of presenting recently about how to grow your email marketing list. Here are the slides for your reference:
(And, yes… you can hire me to speak at your next event, too).
Finally, you might enjoy some of these past posts from Thinks to help you build your e-commerce strategy and your digital success: