Top E-commerce Errors: "Coming Soon!"
Continuing our look at e-commerce errors, check out this (otherwise attractive) page for a local bakery/sweet shop where I'd gone to get some fruitcake for Uncle Lou's family: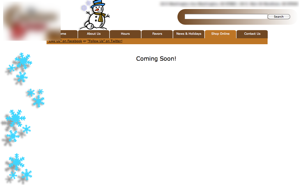 Smack dab in the middle of their "Shop Online" page are the big, bold words: "Coming Soon!" followed by… nothing. Nada. Zip. Zilch.
Don't get me wrong. It's great that "Shop Online" is "Coming Soon!" But your customers want to buy today.
Navigation, of any kind, leading to a "Coming Soon!" page is a little like Lucy pulling the football away from Charlie Brown. And it's particularly bad on product pages, e-commerce pages and contact pages. Your customers don't care that your online shop is coming soon. They want to buy their gifts and get on with their lives. At a bare minimum, rename the link "How to Buy," show some photos of your products and give a phone number for customers to call. To the store's credit, they do have their store address listed (it's the blurred bit at the top right in the image to protect the guilty) and a "Contact Us" page, both of which a surprising number of store lack.
As we discussed yesterday, customers visit your site to fulfill their needs. And you're not required to offer every possible way for them to do that. Incorporating a legitimate online shopping experience, particularly for custom-order products, can be challenging. What matters, though, is whether you're aligning your selling process with their buying process to the best of your abilities and being upfront about what you can and can't do. Otherwise, don't bank on your customers "Coming (Back) Soon!"
---
Are you getting enough value out of your small business website? Want to make sure your business makes the most of the local, mobile, social web? thinks helps you understand how to grow your business via the web, every day. Get more than just news. Get understanding. Add thinks to your feed reader today.
And while you're at it, don't forget to follow Tim on Twitter.
Tim Peter & Associates helps companies from startups to the Fortune 500 use the web to reach more customers, more effectively every day. Take a look and see how we can help you.
Technorati Tags: E-commerce, e-commerce, e-commerce satisfaction, E-commerce strategy, ecommerce, online brand building, strategy