Top E-commerce Errors: Bad/Small Photos
We're continuing our look at top e-commerce errors. Monday, we looked at a mistake many sites make: trying to sell out of stock product. And yesterday, we commented on the mistake of "Coming Soon!" pages. But today we get to one of my favorites: small, poor photography. While this image is taken from a travel site, I run into this all the time across all industries: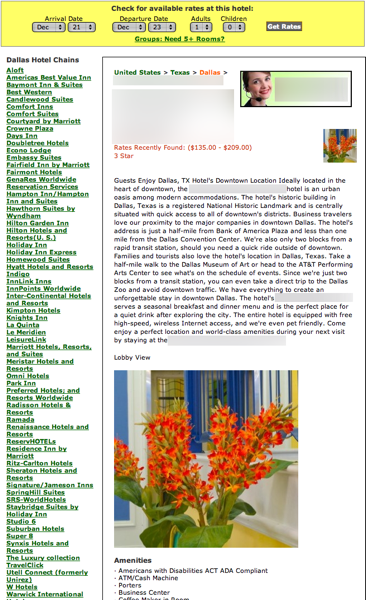 Sure, there's lots of keyword rich content on the site, but the only image is labeled "Lobby View" and it shows… a bouquet of flowers. While I suppose it's somewhat artistic, it doesn't do much to answer a potential customer's questions. And given that a picture is worth a thousand words, the site in question could easily remove—or at a minimum, reformat—that huge block of text and use images to more effectively sell this product.
To be fair, this poor product shot comes from a travel aggregator, not the hotel itself. The specific hotel shown on this page has a pretty good site of its own. But if you're relying on alternate distribution channels—whether Amazon, eBay or Expedia—to sell your products, you want to make sure that they're representing you well, too.
Pictures and videos both help sell your products, but only if your customers can see them and can use them to answer their questions. Make sure your photos and videos help you out by helping your customers out. Otherwise, your sales picture might be pretty cloudy, too.
Full disclosure: I have several clients in the hotel industry. I do not work with this particular online travel distributor or its competitors at this time.
---
Are you getting enough value out of your small business website? Want to make sure your business makes the most of the local, mobile, social web? thinks helps you understand how to grow your business via the web, every day. Get more than just news. Get understanding. Add thinks to your feed reader today.
And while you're at it, don't forget to follow Tim on Twitter.
Tim Peter & Associates helps companies from startups to the Fortune 500 use the web to reach more customers, more effectively every day. Take a look and see how we can help you.
Technorati Tags: Amazon, E-commerce, e-commerce, e-commerce satisfaction, E-commerce strategy, ecommerce, Expedia, strategy, eBay