Understanding the Big Picture: Why Visuals Matter to Your Digital Marketing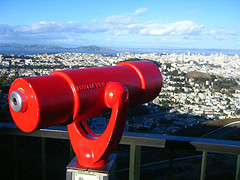 Many people know that the World Wide Web came from a need to share information stored in documents, with emphasis on text. The http placed in front of every Web address stands for "hyper-text transfer protocol," HTML stands for "hyper-text markup language," and, in fact, the creator of the Web, Tim Berners-Lee, objected to including a special tag for images in the early HTML specification.
Oh, what a long way we've come.
Today, I'd argue the Web is as much about visuals as it is about words. In fact, I argue that precisely in my latest Biznology post, "Why a Picture is Worth a Thousand Clicks: Visuals Boost Your SEO". Noting Twitter's acquisition of Vine, Instagram's addition of video tools, and Facebook allowing images in comments as several examples, I point out:
"Now, those items might not look like much of a trend to you. But, then consider two recent announcements from Google:

The search giant just introduced Local Carousel, including a stream of images to the top of local search results—above the first paid listing and the first organic result, pushing additional organic results well below the fold.
AdWords has launched an AdWords Images Extension beta, including images as part of advertisers' paid listings.

When Google starts to put its money—and its search engine results pages—behind something, you know it's a trend worth watching. What Google seems to have learned is that consumers click on items with images more frequently than those without."
Visual content plays a huge role in driving your customers' purchase decisions and the clicks that start them down that path. Plenty of studies support that notion. Images and videos are no longer optional in delivering the right experience for your customers. If you'll pardon the cliché, your pictures really are worth a thousand words.
So, if you want your web presence to really work for your business, I strongly recommend you pay more attention to the visuals you offer. And if you want to make those visuals work for you, take a minute and check out my post over on Biznology. If you'll pardon the pun, it's well worth a look.
---
Interested in learning more about the future of marketing? Register to receive a special report I've produced in conjunction with hotel marketing firm Vizergy, "Digital Hotel Marketing in a Multiscreen World." While it's targeted specifically at hotel and resort marketers, the lessons apply to just about any business. You can get your free copy of the report here.
And you might also enjoy some of our past coverage of the social, local, mobile web and what it means for your business, including: