What's the single most important step in your online marketing?
There have been times when I've argued against growing your traffic and times when I've argued for it. Times when I've recommended PPC optimization and SEO and times when I've said all that's not as important as your customer's experience.
So, which is it? What's most important to your business?
Well… ideally, of course, you want to grow both your traffic and your search engine rankings and your cost-per-click and so on. But you need to focus on those areas that convert. You don't deposit search engine rankings or click-through rates or anything other than profits. So don't worry about those steps that aren't contributing to your sales.
Kate Morris at SEOmoz makes this point brilliantly. The money quote:
"My own answers seemed to center around one thing: CRO (conversion rate optimization) and SEO should never hurt or hinder each other." (Emphasis mine)
She follows it up on Twitter with this bit o' wisdom:
"SEO is worthless if the conversion isn't happening"
And remember, she sells search engine optimization services for a living.
Whether your immediate goal is to grow your search engine ranking (paid or natural), improve your landing page or highlight your call-to-action, each element has to feed into the next one to improve conversion. For instance, take a look at this graphic: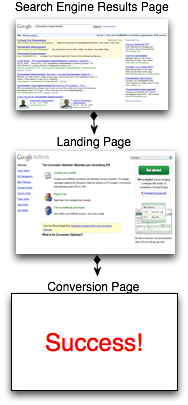 Every element in the path is equally critical as long as it contributes to a conversion. From SERP to landing page to conversion page, each must feed into the next, contributing to your business overall.
What should you prioritize? Start at the end of your process, working backwards from there, or calculate your Lost Prospects. But, you want each step – SEO, PPC, LPO, CRO, and on and on and on – to feed one another, to complement one another, to support one another. And, ultimately, to support your conversion goals.That's your most important step.
---
Are you getting enough value out of your small business website? Want to make sure your business makes the most of the local, mobile, social web? thinks helps you understand how to grow your business via the web, every day. Get more than just news. Get understanding. Add thinks to your feed reader today.
And while you're at it, don't forget to follow Tim on Twitter.
Technorati Tags:
a/b testing, bounce rate, call-to-action, conversion, conversion rate, E-commerce, e-commerce, e-marketing, ecommerce, internet business, internet marketing, landing page design, landing page optimization, marketing, marketing best practices, online marketing, page design, performance, ppc, ppc marketing, search engine marketing, search engine optimization, sem, seo, SEOmoz, strategy, testing, conversion rate optimization