When marketing meets customer service: Say what you mean; mean what you say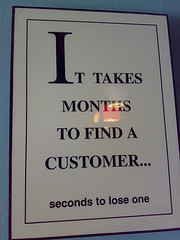 Which is more important to building your brand:
Your marketing?
Your customer service?
To Conversation Agent's 7 sins of customer service, I'd add the First Commandment of Marketing and Customer Service: Customers don't care what your marketing says. They care what you do.
Case in point: I had a credit card stolen last week. My main personal card, no less. I use it every day, for common purchases like parking, lunch and groceries to less frequent purchases like family vacations and big-screen TV's. I pay it off almost every month in full and redeem my rewards regularly, so I know the company isn't making huge money on me, despite how frequently I use the card. But, I do occasionally carry a balance, so they're not going broke, either. They snail me and email me all the time, telling me how valuable a customer I am, encouraging me to buy more stuff, take advantage of their rewards and transfer additional balances. The card issuer even calls it a "Platinum Plus" account. Between all the attention and the "Platinum Plus-ness," I expected to be treated like royalty. Boy, was I wrong.
I called my card issuer and followed their phone tree for lost/stolen cards, only to get a recorded message stating all systems were down. And then they disconnected me. So I called again. Same thing. After a quick check of the GetHuman database, I called a third time, pressing "0" repeatedly in hopes of getting an operator. And I was getting pissed. But, I expected that, as Platinum Plus Boy, they'd make it right once I got to a person. Um… right.
The customer service representative who answered opened with, "Welcome to Big Card Issuer, can I provide you superior service?"
I fought the impulse to respond, "I doubt it."
I'm sure that sounded like a great line when their marketing folks wrote it. But it was the last thing I wanted to hear right then. Particularly since, as you're about to learn, they actually had no intent of providing it.
I explained my situation, that my main card, one I used every day, was stolen and that I needed a replacement ASAP. The agent told me it was no problem, they'd close that account and happily send me a replacement card. In 7-10 business days.
Did I happen to mention that I use this card every day? Doesn't their account system tell them this?
I explained that wasn't acceptable and I'd need the card sooner. The agent replied they'd be happy to expedite it and send me a new card in 2 business days. For a fee of $35.
What?!?
I asked why they charged me – Me! Platinum Plus Boy! – a $35 dollar fee. The CSM's response: "As it's not our fault your card was stolen, any expedite fees get charged to you."
I couldn't help myself. I bellowed, "How is limiting my access to your service for 7-10 days or charging me $35 for more timely response superior service?"
The response? "I'm sorry, sir. That's the best I can do."
After much back and forth – including asking to speak with a supervisor and being told none were available as it was late on a Sunday – I decided the $35 wasn't worth it to me. And, as their actions showed, I wasn't worth the $35 to the company. I'm now using a different card for my daily transactions and soon will use another for my larger purchases.
I recognize why it's important for companies to decide for themselves whether someone is a valuable customer or not. I do it mysefl all the time. And maybe this issuer feels that I'm not profitable enough, what with all my crazy paying off the monthly balance most of the time. That's OK. But then don't give me the impression that I am a valuable customer. Don't give me a "Platinum Plus" card. Don't contact me twice a week with offers telling me how valuable I am as a customer. And don't ask me if you can provide "superior service" if you don't plan to. Because when your marketing and your customer service don't connect, you fail at both.
---
Are you getting enough value out of your small business website? Want to make sure your business makes the most of the local, mobile, social web? thinks helps you understand how to grow your business via the web, every day. Get more than just news. Get understanding. Add thinks to your feed reader today.
And while you're at it, don't forget to follow Tim on Twitter.
Image credit: jm3 via Flickr using Creative Commons Attribution-Share Alike 2.0 Generic.