The Top 9 Marketing and E-commerce All-Star Blogs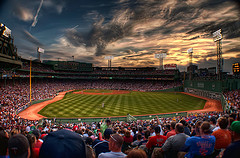 Right around this time every year, baseball celebrates its All Stars, picking the best players from around the league to recognize their accomplishments. But who are the All Stars of the online marketing and e-commerce world? As starved as we are for time every day, as pressed as we are for attention, who can we call on to make sure we put the ball in play, get a hit, drive in some runs? Who can we rely on when we've got to hit one out of the park?
There are loads of other great blogs that cover online marketing and e-commerce out there (you should tell us your favorites in the comments). But for me, these are the 9 blogs we wouldn't win the game without:
That's my line-up, the folks I want going to bat for me. Did I leave your favorite on the bench? Tell us about it in the comments. And let's get ready for the second half of the season. Play ball!
---
Are you getting enough value out of your small business website? Want to make sure your business makes the most of the local, mobile, social web? thinks helps you understand how to grow your business via the web, every day. Get more than just news. Get understanding. Add thinks to your feed reader today.
And while you're at it, don't forget to follow Tim on Twitter.
Image credit: werkunz1 via Flickr using Creative Commons Attribution-Share Alike 2.0 Generic.
Technorati Tags:
achievement, blogging, blogs, bryan eisenberg, e-marketing, internet business, internet marketing, marketing, measurement, metrics, online marketing, ppc, ppc marketing, search, search engine marketing, search engine optimization, sem, seo, solutions, strategy, getelastic, mike moran, seth godin, John Jantsch, Duct Tape Marketing, Rimm-Kaufmann, SEOmoz, Avinash Kaushik