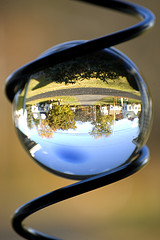 I get asked all the time, "what's the most amazing thing you've seen lately?" And I'm continually amazed by how often I have I am amazed. What amazes me:
I could go on.
The point is, magic happens. Sometimes, as with The Beatles Sgt. Pepper or Joss Whedon's Dr. Horrible's Sing-along Blog, in the name of art. Or Art. And sometimes, as in the examples above, in the name of commerce. But always in the name of taking people – your listeners, your viewers, your customers – somewhere new. Teaching them something. Making their dreams real.
Seth Godin once listed how you can be remarkable, which is very much the same thing. The key to both: put aside your fear. Tell it to come back tomorrow. Today is for magic.
And if you do it today, why not tomorrow, too?
---
Are you getting enough value out of your small business website? Want to make sure your business makes the most of the local, mobile, social web? thinks helps you understand how to grow your business via the web, every day. Get more than just news. Get understanding. Add thinks to your feed reader today.
And while you're at it, don't forget to follow Tim on Twitter.
Image credit: hlkljgk via Flickr using Attribution-Share Alike 2.0 Generic.

Technorati Tags:
achievement, creativity, goal setting, goals, leadership, objectives, performance, strategy, success