Why the social, mobile web matters right now.
Want to see what the future of the web looks like? Then you need to look to the past. Not the distant past. Actually, you only need to look back about 7 days, to the coverage of Barack Obama's inauguration. CNN and Facebook's joint coverage of the inauguration signaled a watershed event in the emergence of the social, mobile web.
To see what I mean, take a look at this. This is what my screen looked like that day:
Watching the inauguration while interacting with my social network enriched the experience for me in ways few other media have. And I wasn't alone. Some of us were more connected than others. Design guru David Armano showed one extreme example: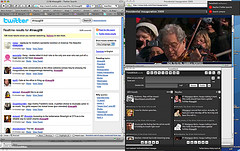 But, my screenshot is misleading. Because this isn't just about the social web. It's also about the mobile web. You see, I actually participated in CNN and Facebook's coverage while being driven to the airport: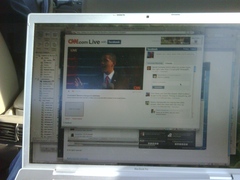 CNN and Facebook's coverage of the inauguration wasn't a stunt. Why not? They tapped into the latent desire of their customers to share an experience and used the right tools to make it happen. Early results say that it worked really well. CNN and Facebook generated huge amounts of traffic and participation among viewers. This is what the social web looks like in practice. Not "later." Not "some day." Now.
William Gibson said, "The future is already here – it's just not evenly distributed.". And, obviously, the historic nature of the event lent itself to big numbers. But, this isn't a question of scale. It's a question of customer intent. Whether using tools like Twitter or Facebook, blogs or reviews, mobile phones or landlines, people interested in any event, experience, issue or outcome are finding lots of ways to meet their needs.
Even if they're sitting in the back of a car.
---
Are you getting enough value out of your small business website? Want to make sure your business makes the most of the mobile, social, local web? thinks helps you understand how to grow your business via the web, every day. Get more than just news. Get understanding. Add thinks to your feed reader today. Or subscribe via email.
And while you're at it, don't forget to follow me on Twitter.
Technorati Tags:
marketing, social, social marketing, social media, twitter, CNN, Facebook, CNN Facebook inauguration coverage, mobile