Will adding payment options REALLY help your conversion rate?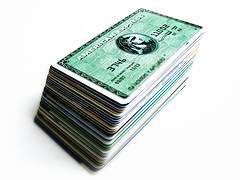 You guys are the best readers in the world. Seriously. And here's why. You all know how much I love data. And you know how important it is to have the data to back up your beliefs. Well, I'm thrilled that someone holds me to that same standard. After reporting that offering more payment options aids conversion in my look at Amazon's PayPhrase service, Trace Johnson threw down the gauntlet on Twitter,
"Any data on more payment options improving conversion?"
Then he said, "Well, tough guy, where's your data?" (OK, he didn't really say that, but you get the idea).
As ever, thinks is up to the challenge. You want data? As we say in Jersey, I got yer data right here:
Is all this information definitive? No. Does it guarantee a jump in conversion for your site? 'Fraid not. But consider this: Many customers may only have one payment option available to them. When you don't accept that option, you don't accept that customer. And that's never going to help your conversion.
What do you think? Do the downsides of accepting alternative payments outweigh their value? Or should you accept additional forms of payment? Tell us what you think in the comments.
---
Are you getting enough value out of your small business website? Want to make sure your business makes the most of the local, mobile, social web? thinks helps you understand how to grow your business via the web, every day. Get more than just news. Get understanding. Add thinks to your feed reader today.
And while you're at it, don't forget to follow Tim on Twitter.
Image credit: Andres Rueda via Flickr using Creative Commons Attribution 2.0 Generic.
Technorati Tags:
amazon, analytics, conversion, conversion rate, douglas hubbard, douglas hubbard review, E-commerce, e-commerce, e-marketing, ecommerce, getelastic, how to measure anything, how to measure anything review, marketing best practices, measurement, metrics