The 3 reasons Amazon's PayPhrase matters to your business.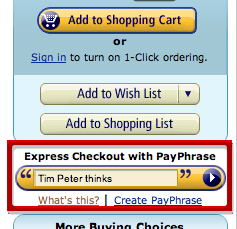 How many forms of payment do you take on your site? In their "A-Z of conversion rate optimization," Econsultancy suggests:
"The more payment options, the higher the conversion rate. The fewer navigation options in the checkout process, the lower the abandonment rate. Flexible shipping options and returns policies also help drive conversions." (Emphasis mine)
Amazon seems to agree. For years, Amazon has offered multiple purchase options, from their 1-Click ordering to listing used products and alternate sellers. Even their Wish Lists provides an alternate purchase option (i.e., buy it later), that keeps customers returning to – and buying from – Amazon.
Now Amazon has introduced a new feature, PayPhrase, that let's you purchase simply by entering a unique two-to-three word phrase and a PIN. That's it.
But why is this significant?
It gives customers another way to buy. I know I quoted Econsultancy above, but it bears repeating: "The more payment options, the higher the conversion rate." Why make it hard for customers to buy?
It gives parents a way to enable their teens' purchases. PayPhrase offers an allowance feature, giving parents the ability to set spending levels for their kids without having to approve every purchase. It lowers friction on those purchases – and likely drives greater sales.
Amazon now has a product to compete with Ebay's PayPal and Google Checkout. I know, I know. I'm jumping the gun here a bit. But Amazon has already launched PayPhrase on other retails sites, such as Buy.com, DKNY and Patagonia. Do you think – given how dominant PayPal and Google Checkout are – that Amazon is going to stand by and let them own that market? No? Me neither. Don't be surprised if you see Amazon offer this to more businesses over time.
If you'd like more details, Amazon has a video outlining PayPhrase's features and benefits.
But the key takeaway for your business is to keep your payment options open and keep on the lookout as Amazon moves more aggressively into this space.
What payment options work for your store? Tell us about them in the comments.
Full disclosure: I make money on this blog as an Amazon, Ebay ProStores and Google AdSense affiliate.
---
Are you getting enough value out of your small business website? Want to make sure your business makes the most of the local, mobile, social web? thinks helps you understand how to grow your business via the web, every day. Get more than just news. Get understanding. Add thinks to your feed reader today.
And while you're at it, don't forget to follow Tim on Twitter.
Technorati Tags:
a/b testing, amazon, call-to-action, continuous improvement, E-commerce, e-commerce, e-marketing, ecommerce, Google, internet business, internet marketing, page design, strategy, Amazon, conversion, conversion rate