Your Customers Carry Your Competitors in Their Pockets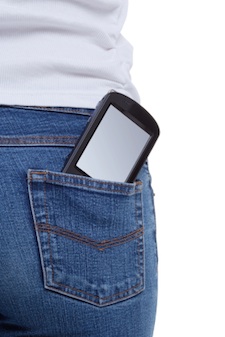 So I don't know if you heard the news, but Verizon finally started offering the iPhone. I know, right? You'd think it would have gotten more attention in the press.
Anyway, MediaPost says let the battle begin between the AT&T iPhone and the Verizon iPhone (ViPhone?). And even with the suggestion that Apple adding Verizon as a channel will hurt Android sales, there's no question that Android sales—and those of smartphones generally—are crazy high. And growing.
Now what does that have to do with your sales and marketing? Well, years ago, we used to say that in e-commerce, competitors are just a click away. It's still true. It's just so obvious, no one says it anymore.
But, increasingly, the same is true for retail locations, too. Whether on an iPhone, Android, Blackberry or some other smartphone, your customers can easily find reviews of your business or better deals via their mobile phones while they're standing in your location. And they trust online merchants for quality service and prices enough that they may easily choose to make purchases somewhere else while standing right in front of you. As Linda Bustos notes, 30% of shoppers are researching on their phones, almost 3x higher than in 2009, and mobile purchases are up 500%—though, admittedly, still at a relatively small percentage. How many of those are happening in your store?
In the online space, the most common ways to deal with this "one click away" threat are:
Tighten up your selling process. Make it hard for your customers to buy and they'll do it somewhere else.
Work to establish trust. Nobody opens up their wallet when they're uncomfortable.
Increase purchasing options. Much like #1, customers usually choose to buy the way they want to. By offering additional payment types, prominent phone support, click-to-call or myriad alternatives, e-commerce retailers seek to address the most common barriers to purchase.
Eliminate risk. Check out at what's happened to the cost of shipping and return policies in the last decade. Online merchants have worked hard to make every step of the transaction less painful.
There are others, of course. But these hit the highlights. By improving the online purchasing experience, companies large and small have put customers in their pocket. Now, with the growth of mobile, customers are returning the favor.
Which begs the question: Are you working to do the same for your offline customers?
---
Are you getting enough value out of your small business website? Want to make sure your business makes the most of the local, mobile, social web? thinks helps you understand how to grow your business via the web, every day. Get more than just news. Get understanding. Add thinks to your feed reader today.
And while you're at it, don't forget to follow Tim on Twitter.
Technorati Tags:
amazon, conversion, conversion rate, conversion rate optimization, E-commerce, e-commerce, e-marketing, ecommerce, getelastic, internet business, internet marketing, marketing, marketing best practices, mike moran, online marketing, strategy, success