10 Damn-Good Digital Marketing Posts: E-commerce Link Digest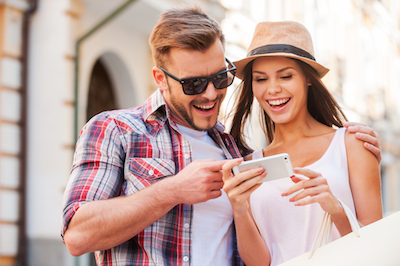 Crazy week around here, Big Thinkers. The good kind of crazy, that is, filled with loads of learning and quality time with clients. Hope you've had a great week, too. In keeping with the theme of the week, here's a somewhat crazy collection of 10 damn-good digital marketing posts to see you through to next week. Enjoy:
Leading off our list, this week's episode of Thinks Out Loud asks, "Mobile Helps Software Eat the World. Will it Eat Your Business?" Be sure to check it out when you have a moment.
Linda Bustos at GetElastic details some excellent omnichannel strategies for brands and online pureplays that are well worth your time.
Marketing Charts has some terrific data showing that consumer perception of retailers' data security impacts loyalty and W-O-M. Fascinating information.
Another GetElastic post explains why the Apple Watch skeptics are wrong. Given the amount of press the Apple Watch specifically — and wearables generally — receive at the moment, you'll want to check this out.
While we're on the topic of tech and its relationship to your business, take a listen to Episode 122 of our Thinks Out Loud podcast, which explores the long-term growth curve for mobile commerce. You'll also probably enjoy this Mobile Commerce Daily article that says the iPhone is the biggest driver by far of in-store mobile payments.
Switching to the social side of the spectrum, Social Quant offers up 8 Twitter lists you should be using, a fantastic resource for getting the most out Twitter for your business.
And, in related news, Variety offers this amazing survey that shows YouTube stars are more popular than mainstream celebs among U.S. teens. This underscores the ways in which younger Millennials — and Millennials overall — consume entertainment and information. And that will help shape how you connect with this new generation of consumers as they come into the market in a more meaningful way over the next couple of years.
Shifting gears to search, Search Engine Land provides an excellent look at how to replace Google's "(Not Provided)" data to strike SEO gold. Great read.
Email marketing remains a critical component of any successful digital marketing strategy, so this round-up of the latest data about email subject lines from Marketing Land offers outstanding information to improve your campaigns. You might also want to review these 7 key tips for more effective email marketing and the rest of our email marketing coverage here.
Finally, don't miss this round-up of 7 mobile commerce must-reads, the top posts from April that we posted last week.
While you're at it, make sure to check out other entries from our E-commerce Link Digest series, including these 10 spectacular mobile marketing and e-commerce essays, this set of 6 major stories about Millennials and mobile commerce, and these 10 must-read e-commerce, search, and mobile posts, as well as these "9 Amazing Millennial, Mobile and Digital Marketing Columns: the Top Posts from March" when you get a moment, too.
Do you want learn even more about how your customers' changing behavior shapes e-commerce and marketing? Be sure an register to receive a special report I've produced in conjunction with hotel marketing firm Vizergy, "Digital Hotel Marketing in a Multiscreen World." While it's targeted specifically at hotel and resort marketers, the lessons apply to just about any business. You can get your free copy of the report here.
You can also check out these slides I had the pleasure of speaking to a great audience recently about how to lead digital transformation within large organizations (a topic we've been talking about a fair bit lately). Here are the slides for your reference:
And, finally, you might want to take a look at some of our past coverage of the e-commerce, mobile commerce, and digital marketing overall, including: