2014 Trends to Watch: Content Rivers, Floods, and Streams (Travel Tuesday)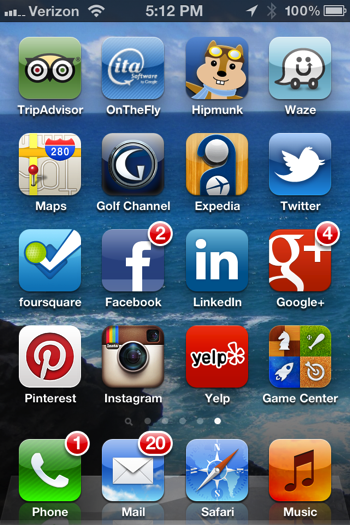 Here's a trick question for you. In the image to the left, which of the following mobile apps work as distribution channels for hotels?
Let's check it out together. So, let's see, we've got:
Ratings and review sites like TripAdvisor and Yelp
Metasearch tools like OnTheFly, Hipmunk and, again, TripAdvisor
Mapping tools like Waze and Maps (Apple in this case, but it could be Google Maps, too)
Vertical media (Golf Channel)
"Traditional" OTA's (Expedia)
Social sites, including Twitter, Facebook, LinkedIn, and Google+
Image-sharing sites (Pinterest and Instagram)
Entertainment apps like Music and Game Center
Plus, standard communications tools like an email client, web browser, and… oh, yeah, this thing's a phone, too.
So, which of these apps represent distribution channels?
And remember, I said it's a trick question.
OK, with the possible exceptions of Game Center and Music, I'd say pretty much all of the apps represent a significant component in distributing your hotel's static content (i.e., not rates or inventory), to guests. And a healthy chunk of the apps also have your rates and inventory. Frankly, given the dizzying array of channels that exist out there, I'm surprised no one's yet figured out how to use games or music to do the same.
By now you're probably saying, "Wait, what? How do all of those relate to distribution?"
Here's why. On the Internet (including mobile since there's no such thing as an offline traveler any longer), the difference between a marketing channel and a distribution channel often depends on whether or not there's a "Book Now" button. And, since in every single case listed, the "Book Now" button is only one click/tap away, the real question is this: what's the difference?
The answer, at least from your guests' point of view is there isn't one[1].
Can guests find your your hotel on ratings and review sites? OTA's? Metasearch? Location-based search? Travel-related publications? Social sites? Your website?
Do you send guests email? Do you answer your phone?
(Please, please say yes to most, if not all, of these. Please).
You've heard of content streams? Well, your guests are drowning in those streams, rivers, and, hell… floods of content. In many cases, they may know more about your hotel, your rates, and your inventory than some of your employees.
This trend, towards greater transparency and increased access to richer, more detailed, more immediate content will only continue to grow. I talked about the trend in my 2014 Digital Marketing Directions Presentation (featured below):
And, while most hotel marketers can apply the 4 New Year's Resolutions for Hotel Marketers I talked about a few weeks back, it's critical you come up with a plan to ensure your hotel reaches your guests across these diverse channels and helps them understand why your hotel is the only right choice for their next stay.
Otherwise, you'll be the one drowning. In red ink.
If you're interested in learning even more about the future of e-commerce and marketing via the social, local, mobile web, register to receive a special report I've produced in conjunction with hotel marketing firm Vizergy, "Digital Hotel Marketing in a Multiscreen World." While it's targeted specifically at hotel and resort marketers, the lessons apply to just about any business. You can get your free copy of the report here.
You might also enjoy some of our past coverage of the social, local, mobile web and what it means for your business, including:
Footnote 1. There are some practical differences in how you'll manage them, but your guests both don't need to know and don't care. Continue reading post…