5 common mistakes messing up your marketing plan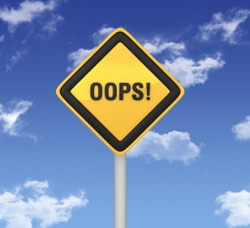 I've been spending a fair bit of time on the fundamentals of marketing over the last week or so, showing "What I mean by marketing" and asking "When does online marketing become online sales?" Today, I want to address some common mistakes I see during the marketing planning process that hold many businesses back from achieving all they can.
Doing what you've always done. Your business didn't get where it is today by accident. You've put in a lot of effort, a lot of time, to get where you are today. So, why fix what isn't broken, right? The problem is, the world around you changes every day. New technologies and an evolving media landscape offer opportunities to attract new customers and grow your business. Additionally, these changes in the marketplace build on one another. Social media, which has been around for at least 10 years (Friendster launched in 2002 and social web almost certainly existed for a long while before that), didn't really take off until smartphones hit the mainstream in the mid-2000's. And while "everyone" knows that newspapers are dinosaurs, bypassed by the Internet and loads of "free" content, the New York Times reported a significant increase in readers over the last year. The market continues to move around you. Your plans need to adjust to that changing reality at the same time.
Using last year's budget, plus 10%. One of the most common ways to "adapt" to a changing marketplace involves increasing budgets by 10% (or 15% or 20% or what-have-you), assuming that the additional funds can exploit the evolving landscape effectively. Um… maybe. But probably not. Increased budget, while nice, isn't necessarily the right approach. Many businesses increase their effectiveness by cutting budget in areas that aren't working and reallocating those funds to more promising channels. You can't arbitrarily assign a number. Instead, determine what you're going to do, then go get the funds to do it, whether it's an increase, a decrease or about the same.
Doing the same thing you've always done, but working harder. See item 2, then substitute time and people for dollars.
Using marketing channels that "always" work. Nothing "always" works. At least not for long. As consumer behavior changes, channels gain or lose effectiveness. Competitors start using your favorite channel, diluting your message, driving up costs or both. As with the first three items on this list, take a look at what's working and build on it, but also continue to seek new opportunities to reach your customers.
Measurement by feel. In some ways, this ought to be number 1 on the list. As the adage goes, you can't manage what you can't measure. And, as I've mentioned before, you're almost always able to measure more than you think you can. Navigating unfamiliar terrain gets easier when you use a GPS. Navigating the changes in the marketplace benefits from the right tools, too. It doesn't matter how long you've been in business, or how well you know your customer (not that those don't help). But ignoring tools that can help you grow only benefits your competition.
What other mistakes have you made in your marketing plans? Let me know in the comments. I'd love to hear what you've learned.
---
Are you getting enough value out of your small business website? Want to make sure your business makes the most of the local, mobile, social web? thinks helps you understand how to grow your business via the web, every day. Get more than just news. Get understanding. Add thinks to your feed reader today.
And while you're at it, don't forget to follow Tim on Twitter.
Tim Peter & Associates helps companies from startups to the Fortune 500 use the web to reach more customers, more effectively every day. Take a look and see how we can help you.
Technorati Tags: marketing, marketing best practices, measurement, metrics, strategy, success