An Engaging Presence: 3 Steps to a More Usable Website by Megan Totka
A solid user experience contributes significantly to the success of your website. Guest blogger Megan Totka looks at how to improve that experience for your website visitors.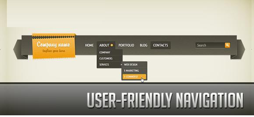 Usability is an essential ingredient for an effective business website. You can have quality content and stunning graphics, but if your visitors can't easily navigate your site to find what they need, they're likely to leave and seek out your competitors.
Even if you've got the navigation basics down, improving the usability of your website boosts bounce rates and encourages visitors to stay longer and follow the paths you'd like them to take—straight to your buy button. After all, the more clearly you can spell out what you want your website visitors to do, the more likely they are to do it. So how can you make your website more usable?
Here are three tips to engage your visitors, improve their overall user experience, and reduce your site's bounce rate. All this makes your website more effective – and more profitable.
Map It Out: Use Global Navigation
Global navigation simply means that you have a consistent navigation system that's reflected on every page of your website. Most website templates already incorporate this feature, but there are still some business sites that aren't using it consistently.
Whether you use a top navigation bar or a sidebar navigation list, the same format should appear on each page—including subpages and product pages. If you have a footer for less prominent pages, such as your sitemap and investor or affiliate information, this should also be reproduced uniformly throughout the site.
Seamless navigation eliminates confusion and helps guide customers directly toward the pages you want them to see.
If you have an extensive website with a clear hierarchal structure, using breadcrumbs can enhance your site's usability by offering your visitors an additional navigation tool. Breadcrumbs are simply a horizontal series of links, usually connected with the > sign, that show the hierarchy of the page you're on. These links let you move efficiently through categories, making it easier to navigate nested pages.
For example, a website that sells tools and home improvement products might have a breadcrumb at the top of the product page for a Craftsman 20 oz. Rip Claw Hammer that reads Products > Hand Tools > By Brand > Craftsman > Hammers > 20 oz. Rip Claw Hammer. This sort of structure lets site visitors easily pinpoint exactly what they're looking for—and that means you're one step closer to making the sale.
Spell It: Boost Your Readability
Even if you have the most interesting and informative articles, blog posts, or product descriptions on your website, if they're too technical or too lengthy or otherwise hard to read, your visitors probably aren't going hang around.
Keep in mind that reading from a screen is not the same as reading in print—and many users may be viewing your website on the smaller screens of their smartphones or tablets. Making sure your website is optimized for mobile is important. Of course, that's an entirely separate post, but if your site's mobile experience isn't already on your radar screen, consider this your nudge to start thinking about it—now.
When you lay out your website text, use plenty of white space and employ things like a clear font, short paragraphs, subheadings and bulleted lists for easier scanning.
Plan It Out: Keep Things Intuitive
The biggest key to website usability is making the entire experience easy for your visitors. With that in mind:
Make sure that any page on your site can be reached in just a few clicks from the other pages. Use clear navigation and breadcrumbs for complex sites.
Use labeled graphics, like buttons and tags, to make action items easy to spot.
Avoid using jargon, technical language, or company-specific terms as navigation elements.
Don't force visitors to fill out forms to access common information (though this strategy is fine for exclusive offers or other incentivized content).
Your website should be designed for maximum appeal to your visitors. With just a few small changes, you can make your online presence more usable, improve visitor engagement, and create satisfied customers—and these add up to more sales and increased profitability.
Interested in more? Sign up for our free newsletter and get more information on how to build your social, local, mobile marketing strategy.
Megan Totka is the Chief Editor for
ChamberofCommerce.com
. She specializes on the topic of small business tips and resources. ChamberofCommerce.com helps small businesses grow their business on the web and facilitates connectivity between local businesses and more than 7,000 Chambers of Commerce worldwide.