Why Apple Might Choose Yelp as Its Go-To Search Engine (Travel Tuesday)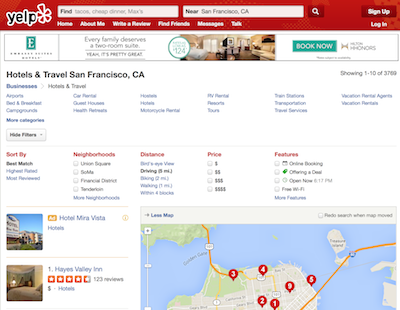 I mentioned in this week's hospitality marketing link digest Search Engine Land's prediction that Apple will not renew Google as Safari's default search engine. And I ventured a guess, nothing more, that Apple might choose Yelp as an alternative search offering.
Here's why and, more importantly, why you ought to care.
What the Apple, Yelp, Google Discussion is Really About
Fundamentally, search is becoming a local offering. Proximity has long represented a key driver of why guests choose hotels. With the growth of map search and the rise of mobile, proximity is taking on a similar role for almost every other kind of business, too. Popular services such as Uber, Lyft, OpenTable, Yik Yak, and, yes, Yelp depend on local information to support their customers' needs. And that reliance on local information only seems to be accelerating.
For instance, check out Google's recent moves that highlight the importance of local information:
Obviously, this list is hardly conclusive. But it is suggestive of the search giant's direction, driven by the content its users seem to seek.
As it happens, Yelp provides some of these tools already, particularly in the way of photos, to say nothing of its review content. And Apple already includes Yelp as a key component of Apple Maps and Siri.
Of course, it's worth watching this rumor that some investors think Priceline might be looking to acquire Yelp outright, which when combined with its existing hotel inventory, OpenTable integration and other recent moves, would make Priceline a formidable competitor to Google in its own right.
Me? I think Apple will re-sign with Google, at least this time around. There isn't another credible alternative that's ready. Yet. But I think Apple is undoubtedly looking to decrease its dependence on Google. Yelp provides one potential alternative. And Apple's recent acquisition of Spotsetter and acqui-hire of the BroadMaps team suggest this space is heating up in a big, big way. I suspect even Apple's rumored self-driving car is as much about collecting map data right now (just like Google once did) as anything else.
Why Hotels Should Care
Today, major chunks of your marketing spend depend on a few key players: Priceline, Expedia, and TripAdvisor for OTA/metasearch (which, really, are the same thing), and Google for search/metasearch (which, again, its recent moves suggest are also coming together). Sure, I know there are plenty of others. But the 80/20 rule suggests you're getting most of your online bookings from this relatively limited group.
Any shake-up in the overall pecking order, whether by Google taking a bigger role in travel transactions or the emergence of a serious new player—an Apple or Priceline-backed Yelp, for instance—could seriously affect your overall distribution plans.
My advice for now? Continue to beef up your mobile presence. Build and optimize your customer database to market directly to guests. And keep an eye on the continually-evolving market. Because even if we can't predict exactly what will happen, we can predict it's going to be a fascinating journey.
Interested in learning even more about the future of hospitality e-commerce and marketing via the social, local, mobile web? You should register to receive a special report I've produced in conjunction with hotel marketing firm Vizergy, "Digital Hotel Marketing in a Multiscreen World." Developed specifically for hotel and resort marketers, the lessons can help your business adapt to the changing guest environment. You can get your free copy of the report here.
And take a moment to review the slides from my recent webinar, "Digital Marketing Directions 2015: Three Key Trends Driving Your Hotel Marketing Next Year" here:
Finally, you might also enjoy some of our past coverage of the social, local, mobile web and what it means for your business, including: