Ask for help? Are you crazy?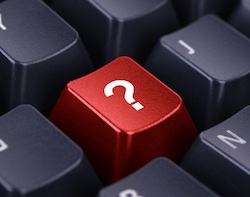 I've mentioned the need to ask for the sale before, but Justin Kownacki offers a compelling, real-life example:
"When my latest fiscal conundrum happened, I reached out to my network to see if anyone knew of any opportunities I might be a good fit for.  I was expecting a few responses.  Instead, I got a legitimate lead from almost everyone I asked.  And most of those opportunities stemmed from work or connections that I didn't even know people were involved with, which reinforces my own suspicions about professional networks in general: they're only as useful as you ask them to be." [Emphasis mine]
Jason's a solid writer who speaks to a lot of the challenges small businesses face, especially the difficulty in asking for sales, for help, for contacts, and so on. I struggle with this too. But, the only way to break the cycle is to put yourself in front of people, listen to what they need, then ask how you can help. No matter whether it's online or offline.
Well? Who are you going to ask?
---
Are you getting enough value out of your small business website? Want to make sure your business makes the most of the local, mobile, social web? thinks helps you understand how to grow your business via the web, every day. Get more than just news. Get understanding. Add thinks to your feed reader today.
And while you're at it, don't forget to follow Tim on Twitter.
Technorati Tags:
achievement, call-to-action, continuous improvement, marketing, marketing best practices, objectives, performance, skills, social, social strategy, solutions, strategy, success