6+ Tips for Social, Search and Social Search Success (Small Business E-commerce Link Digest – May 5, 2011)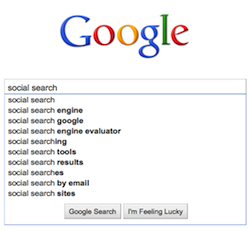 There really is no question that we now live in the era of social search. Whether it's Google adding social features to its results pages or using social signals to improve those results, it's clear that social drives search engine results, which in turn may lead to more measurable success for your social marketing efforts as your customers talk about your brand. With that in mind, here are 6 tips (plus some bonus content) to help you improve socially and, um… search-ily:
We live in an era where the "Like" is the new link. Fortunately, Search Engine Land has a great look at how to optimize your site for "Likes." Send this one to your developers. They need to know this now.
Of course, without great content, there's nothing for your customers to "Like" in the first place. Thankfully, SEOmoz offers a quick post on creating great content for SEO that's simple, inexpensive and highly "Like" worthy.
SEOmoz also offers 10 easy SEO copywriting tips for link building that should help you pick up "Likes," links and love from your social set.
Of course, there's more to social—and social search—than acquiring "Likes" here and there. You need a more defined social strategy. Which is why Nellie Alkap's look at 6 effective social media strategies for small businesses on Mashable is well worth your time. One of her tips is to learn from "the experts." While it's debatable who actually is a social media expert in this fast-moving field, as Nellie rightly points out, you can learn from those who are doing social marketing well. Which leads us to…
Social Media Examiner's look at 9 companies doing social media right. Loads of good stuff here that businesses large and small can put to use right away. Also worth the read.
And, of course, getting people to find your site in search or click on a social "Like" is only half the battle. What happens after visitors arrive makes all the difference to your business. Which is why you should take a look at Samir Balwani's 7 simple fixes for your small business website. Or Michael Gray's simple suggestions on how to make your website look more legit. Or our past coverage on improving your bounce rate. Or all of the above. There's something for everyone in there.
Finally, I'd like to offer a bonus tip: Don't just read these other tips. Put them to use. Your business results are in your hands. Not Facebook's. Not Google's. Yours. Social—based on the search engines' increased reliance on social signals—is real. Is your social search strategy real, too?
---
Are you getting enough value out of your small business website? Want to make sure your business makes the most of the local, mobile, social web? thinks helps you understand how to grow your business via the web, every day. Get more than just news. Get understanding. Add thinks to your feed reader today.
And while you're at it, don't forget to follow Tim on Twitter.
Tim Peter & Associates helps companies from startups to the Fortune 500 use the web to reach more customers, more effectively every day. Take a look and see how we can help you.
Technorati Tags:
E-commerce, e-commerce, E-commerce strategy, e-marketing, ecommerce, F-commerce, Facebook, facebook, Google, google, internet business, internet marketing, marketing, Mashable, online marketing, search, search engine marketing, search engine optimization, sem, seo, SEOmoz, social, social commerce, social marketing, social media, social search, social strategy, strategy