What the Big Shift to Mobile Means for Your Business (Thinks Out Loud Episode 251)
Podcast: Play in new window | Download
Subscribe: RSS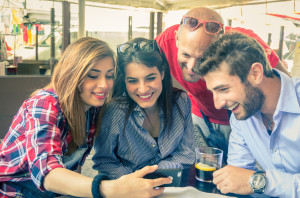 Looking to drive results for your business? Click here to learn more.
---
What the Big Shift to Mobile Means for Your Business (Thinks Out Loud Episode 251) – Headlines and Show Notes

Following up on Thinks Out Loud's 250th(!!!) episode last week, host Tim Peter talks through what the big shift to mobile means for your business right now. And, just in case you're curious, it's a much bigger deal than you think.
Want to learn more? Here are the show notes for you:
Relevant Links:
More US Adults Own A Smartphone Than Have Home Broadband – Marketing Charts

A new report from Pew Research Institute revealing that 8 in 10 US (81%) of US adults own a smartphone which is even more than those who have home broadband.
96% of 18-29-year-olds and 92% of 30-40-year-olds now report owning a smartphone
… older generations are somewhat slower than the younger generations to become smartphone owners. The age group of 50-64 year-olds is just below the average at 79%,
…just more than half (53%) of US adults 65 years and older own a smartphone
…that does drop to a 40% share for those 75 years and older.
17%) of US adults who do not have a high-speed internet connection at home, yet own a smartphone. Some 22% of these smartphone-only internet users are between the ages of 18-29 years old. One-quarter (25%) are Hispanic, while 26% have a high school education or less and 26% have an annual income of $30K or less.
even when given an option on how they can access the internet, some 46% of smartphone owners (versus 37% of all Americans, as covered in a previous examination of the data) say they mostly go online using their phone. Only 3 in 10 (30% share) say they mostly go online using another device such as a computer or tablet.
The percentage of individuals who go online mostly using their smartphone varies with age. Three in 5 (61% share) of 18-29-year-olds say they prefer to go online using their smartphone as do about half (51% share) of 30-49-year-olds. However, the numbers decrease considerably with 50-64-year-olds (34% share) and 65 and overs (28% share). Those age groups much more prefer to use a computer or tablet to access the internet.

These numbers will likely only go up.:

Either, older adults begin mirroring the behaviors of younger cohorts, or
Older adults age out of the marketplace, lowering their skew on the numbers
Yes, it's possible that younger adults will need glasses or prefer larger screens as they get older, so it's not 100% guaranteed we'll see these numbers rise. However, even as Millennials hit their late 30's, that's still likely a few years away.

And this 4 trends you need to know– Mary Meeker report recap from a few weeks ago helps
Mobile requires immediate answers

Speed is the new currency of business (Marc Benioff at Salesforce.com)
Customers engage when it's convenient for them. They could be picking up kids from school or soccer; waiting for a colleague at a restaurant; or simply between episodes of the shows they're streaming
But they don't want to waste time waiting for the right answer

Which requires great content

There's a reason I continually say that content is king
Are you connecting with their intent?
Do you help your customer solve their problems?

Mobile produces data trails
Subscribe to Thinks Out Loud
Contact information for the podcast: podcast@timpeter.com
Past Insights from Tim Peter Thinks
You might also want to check out these slides I had the pleasure of presenting recently about the key trends shaping marketing in the next year. Here are the slides for your reference:
Technical Details for Thinks Out Loud
Recorded using a Heil PR40 Dynamic Microphone through a Cloud Microphones CL-1 Cloudlifter Mic Activator and a Mackie Onyx Blackjack USB recording interface
into Logic Pro X
for the Mac.
Running time: 15m 59s
You can subscribe to Thinks Out Loud in iTunes, the Google Play Store, via our dedicated podcast RSS feed )(or sign up for our free newsletter). You can also download/listen to the podcast here on Thinks using the player at the top of this page.