Does Marketing Still Include Paid Search?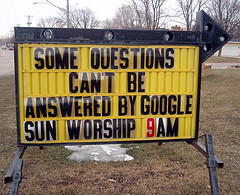 Marketing isn't art. At least not exclusively. It's also part science. Which is why I'm troubled when I see smart, capable folks like Vic Drabicky suggest on Marketing Land that paid search is no longer part of marketing.
Yes, there's been an increase in the amount of technology and automation supporting paid search campaigns. But marketing is about the information side of IT, not the technology side.
And badly executed paid search doesn't indicate the death of it as a marketing practice. In fact, it indicates opportunity for smart, savvy, capable marketers to use to their advantage. Which is pretty much the point of my latest post on Biznology, "Is Paid Search Part of Marketing?"
Obviously, I think the answer is 'yes.' But check out the whole post to see why when you get a minute. You'll be glad you did.
If you're interested in learning more about the future of e-commerce and marketing via the social, local, mobile web, register to receive a special report I've produced in conjunction with hotel marketing firm Vizergy, "Digital Hotel Marketing in a Multiscreen World." While it's targeted specifically at hotel and resort marketers, the lessons apply to just about any business. You can get your free copy of the report here.
You might also enjoy some of our past coverage of the social, local, mobile web and what it means for your business, including: