Does Metasearch Force You to Lower Prices? (Travel Tuesday)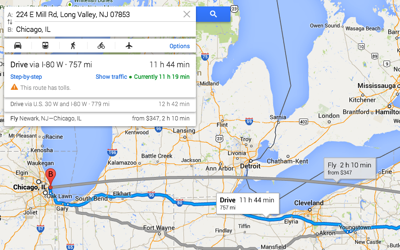 I've talked for a while about Google's addition of metasearch to Google Maps and what it means for hotels. When Google first introduced this feature, I stated,
With all due respect to Kayak, Hipmunk, and others, metasearch (as we've known it to date) still represents a modest proportion of search traffic for most travel companies. According to the New York Times, Kayak's ranked as the eighth most popular travel site prior to its acquisition, receiving less than half the traffic of the top players (Trivago and Hipmunk are considerably smaller).
However, I noted at the same time,
Google Maps' mobile app alone gets 2-3 times the traffic of the biggest travel sites, without including desktop traffic (though, to be fair, some of that would likely be duplicated across desktop and mobile). Add improved exposure for Kayak and Trivago through their new parent sites, plus TripAdvisor's move towards metasearch and the category as a whole stands to gain.
My point then was that Google stood to benefit as much as anyone from the growth of metasearch—and that hotels were likely to face increased price competition because of this.
Fast forward a couple of months and here's where we are:
Comparison travel shopping sites such as Kayak and Dealbase are now used to make travel reservations by 28 percent of travelers, up from 15 percent in 2010 (Source: Travelpulse, MMGY Global/Harrison Group)
Of course, I've also noted for long time that in an age when the price for your product and your competitors are mere clicks away from one another, you can't just try win on price alone. And, because of the price transparency created by the Internet (whether due to metasearch or customers simply shopping around), trying to compete on price is often like trying to win a race to zero. In other words: A really bad idea.
As a recent New York Times article notes,
In the end, hotels need to build their customer base on more than just price, Professor Adler said. "If guests come and the cleanliness, facilities or service isn't what they expect, they won't book there in the future, just to save some money."
Yes, guests shop around. And yes, they're often looking for last-minute deals. But what they ultimately want is value. That's why upselling, when done right, works. It's why guests have a favorite hotel. Or a favorite restaurant. Or a favorite airline (or at least one they hate less).
Distribution and pricing and marketing all go hand-in-hand to tell your guests the right story about your brand and your property. Price is use one component of that story. Tell the rest of your story well and maybe you won't have to compete solely on price.
If you're interested in learning more about the future of marketing and e-commerce on the social, local, mobile web, register to receive a special report I've produced in conjunction with hotel marketing firm Vizergy, "Digital Hotel Marketing in a Multiscreen World." While it's targeted specifically at hotel and resort marketers, the lessons apply to just about any business. You can get your free copy of the report here.
You might also enjoy some of our past coverage of the social, local, mobile web and what it means for your business, including: