Driving Brand Intimacy in Hospitality (Travel Tuesday)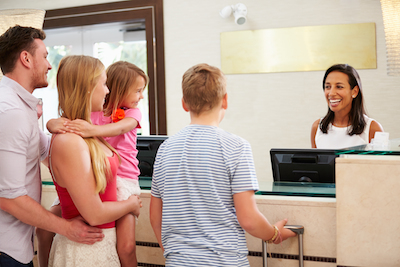 In this week's Hospitality Marketing Link Digest I mentioned how poorly the hospitality industry fared in MBLM's latest brand intimacy report, which is a bummer. But you've got to take it with a grain of salt. MBLM attributed travel and leisure's problems (both air and hotel), to four factors:
Disintermediation of purchase
Diminished usage and changing habits
Quality and quantity
Disintermediation of dialogue
The first three require a little bit of discussion, but really aren't the big deal. Give me a second here and you'll see.
Disintermediation of purchase means, roughly, that guests choose to book via OTA's at the expense of "brand intimacy." Sure, but regardless of where they book, your guests could still choose the same hotel every time. That's a huge opportunity for brand intimacy both for the hotel and for the OTA. There's also a ton of price shopping where loyalty members and less frequent guests research on OTA's but still book direct to get rewards/recognition from the property. So, basically, I'm not really buying this one.
"Diminished usage/changing habits" suggests guests are taking fewer leisure trips. Obviously, you need to ensure you're getting your fair share of the market and help your market grow overall. But let's be fair. While acknowledging huge variations across markets, it's likely that only 10%-20% of occupied rooms in many markets on any given night actually host repeat visitors. Most of your guests don't visit your market all that often regardless of where they stay. So, while usage and habits certainly play a role, it's tough to be intimate with guests who don't visit. So once again, I'm not giving too much weight to this as a reason for lack of intimacy itself.
On the quality and quantity front, I'm unconvinced. From MBLM's press release: "Reduced quality in both airlines and hotels has created negative associations and a nickel and dime impression of the category in many cases." While this is probably true for airlines, we just don't see this with hotels. Sure, a poor brand experience will hurt hotels. That's a fact. But, the best brands just don't have this problem, really. Note the most popular hotel brands in the report. Sure, you've got Four Seasons and Ritz Carlton. But Marriott, Hilton and Holiday Inn are hardly luxury brands. What they all do though is effectively meet guests' needs and—most importantly—deliver on expectations. So, yes, you've got to have consistent quality. That's a given. But for most hotels, delivering on expectations is not a huge issue and shouldn't affect your overall brand intimacy.
So what is the problem?
The real issue for most hotels is what MBLM calls disruption of dialogue, meaning guests start their journey someplace other than with your brand. That's a fact. But it's a fact you can use to your advantage.
Want to know the top 10 brands according to the report? Here they are:
Apple
BMW
Toyota
Amazon
Harley Davidson
Disney
Coca-cola
Whole Foods
GMC
Samsung
For the most part, customers interact with these brands about every day. It's almost impossible to maintain intimacy with customers you don't talk to very often. It's not even easy when you do talk with them every day; Google(!) and Starbucks(!!!) don't even crack the top 15. Instead, search sites and social media, generally, along with TripAdvisor specifically, represent the kinds of brands your guests want to engage with when they're ready to take a trip.
At least initially.
So, your job isn't to be the first place they look. It's to get into the conversation as soon as possible, then be the last place they look.
How do you do that?
I'm glad you asked.
Sell your destination first. Why do guests want to visit your destination? Seriously. If you can't answer this well, your guests will likely choose to visit someplace else. And, selling the destination—being seen as an expert—benefits your property too. Whether you're a five star resort or a select service property, you can highlight attractions and events guests will want to experience—and encourage engagement with potential customers.
Master your reputation management. Managing your ratings and reviews represents the most single most effective way to market your property. Full stop. To the "quality" question outlined above, if you're not viewed as regularly meeting expectations, you'll never enter your guest's consideration set. That doesn't mean you have to be the best hotel in town. It means you have to deliver on what you promise. Every. Single. Time.
Answer guest questions. For all the talk about content marketing you hear, there's an even simpler way to think about it: Help answer your guests' questions. What do your guests need to know about your destination and your property? What questions do they have? How can you help answer those questions when they're sitting at home, riding in a taxi, or killing time between meetings? Use your website, your reviews, your social presence, and your messaging to help guests with the information they need. The hotels that do the best job of assisting their guests will likely find themselves welcoming more guests too.
Leverage OTA's where appropriate. I've got a whole separate post on how to use OTA's well, but it's important to note that OTA's can play an important role in putting you in front of potential guests in the first place. Yes, there's some debate about whether "the billboard effect" exists or not. I recommend testing for yourself to see which OTA's and intermediaries help your bottom line and which don't, and leave the debate for others.
Close the deal. It's long past time you invest in a mobile-friendly website and booking engine for your property. It's long past time you build an effective guest database. It's long past time your revenue strategy focused on delivering guest value. And it's long past time you beef up your analytics skills to measure—and learn—what's driving your potential guests to book. Lord knows the OTA's are already doing these things.
Conclusion
Driving brand intimacy in hospitality doesn't depend on being the first place your customers look. It depends on being the last place they look. Because the most intimate brand experiences occur when they're on-property. While it's critical you show up as early as possible in the process to ensure you get a look in the first place, it's even more critical that you help guests address their needs, every step of the journey. And even if they start with TripAdvisor, OTA's, Google, or metasearch, the most important place is where they end up.
If you're looking to learn even more about how changing guest behavior shapes hospitality marketing, e-commerce, and distribution, be sure an register to receive a special report I've produced in conjunction with hotel marketing firm Vizergy, "Digital Hotel Marketing in a Multiscreen World." While it's targeted specifically at hotel and resort marketers, the lessons apply to just about any business. You can get your free copy of the report here.
You might also want to take a moment to review the slides from my recent webinar, "Digital Marketing Directions 2016: The Key Trends Driving Your Hotel Marketing Next Year" here:
Finally, you will definitely want to check out some of our past coverage of the mobile, local, social web and how to make it work for your business, including: