It's Not "Mobile First." It's "Customer First."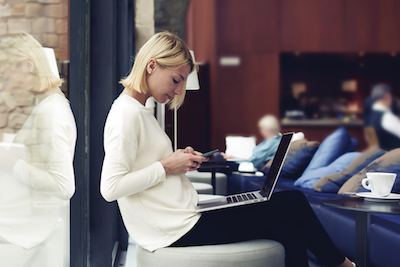 Pew recently released some new data that shows some 68% of U.S. adults own a smartphone as do almost 90% of people who make more than $75,000 per year. Which typically leads me to argue for building out your mobile strategy.
However, this time, I'm not going to do that.
Because, unlike the advice you typically hear, it's important to know thaw it's not "mobile first." It's "customer first" you really need to worry about.
For instance, a couple of years ago, it seemed like everyone had an iPad. They didn't, obviously, but given that tablet ownership rocketed in just 4 years from 4% to over 40% — a level where it's more or less plateaued — no wonder it seemed that way. Now, due to the device's stagnant growth, you'll constantly run into pundits who claim "Tablets are dead."
Neither view is accurate. I recently worked with a client that had invested heavily into a tablet app in 2013, only to discover their customers never moved to tablets in any significant way. Worse, they were late to the game with an updated mobile app and have lost market share to competitors that effectively addressed their customer needs on smartphones.
Whether tablets — or phones, or wearables, or what-have-you — actually matter to your business depends on whether they matter to your customers. Given how quickly mobile devices generally, and smartphones in particular, have made it into your customers' hands means it's highly unlikely you'll be able to ignore mobile and expect to succeed (and even less likely in the longer-term[1]). But maybe your customers are all over age 65 (only 30% smartphone ownership) or lack a high school education (smartphone ownership at 41%) and that you have higher priorities in the immediate term. As long as you're serving your current customer needs and positioning yourself for future growth, there's absolutely no "one size fits all" strategy here.
Of course, you want to be sure you're not ignoring the larger reality, such as underinvesting in mobile when your web analytics show limited mobile use among your customers. Given the size and growth of the mobile market, you might actually have a clear "chicken and egg problem," one where your terrible mobile website causes limited mobile use. But you can easily test to find out what your customers are really up to, then taking action accordingly.
Obviously, mobile's going to play a huge role in the next few years, one it's already playing. It's highly likely your customers and your business require a robust, helpful mobile presence. But before you think "mobile first," take a good look at what your customers need. Paying attention to your customers' needs will help you build a truly robust presence, using the right approach whether for mobile, social, email, search, and everything in between. Because, no matter how big mobile gets, "customer first" is always a winning strategy.
---
[1] With more than 4 out of 5 consumers aged 18-49 owning a smartphone eventually you're probably going to have to address their needs on mobile. Who knows, though? Maybe by the time those folks turn 65 a different technology will have taken mobile's place. (Back to post)
---
If you're interested in learning more about making the social, mobile web work for your customers, be sure to check out this round-up of posts about "Google, Mobile, E-commerce. What More Could You Want?" these "6 Must-See Mobile Commerce Messages for You," this set of "9 Nifty November Mobile Commerce Insights" and other entries from our E-commerce Link Digest series, plus these "7 Special E-Commerce and Digital Marketing Trending Topics: The Top Posts of September, 2015."
And if you want learn even more about how your customers' changing behavior shapes e-commerce and marketing, be sure and register to receive a special report I've produced in conjunction with hotel marketing firm Vizergy, "Digital Hotel Marketing in a Multiscreen World." While it's targeted specifically at hotel and resort marketers, the lessons apply to just about any business. You can get your free copy of the report here.
You can also check out these slides and video from my recent webinar, "Digital Marketing Directions: Three Key Trends Driving Your Marketing Next Year":
And, finally, you might want to take a look at some of our past coverage of the e-commerce, mobile commerce, and digital marketing overall, including: