Everybody needs both Pinterest and LinkedIn | Biznology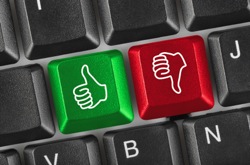 When it comes to marketing strategy, whether social, mobile, local, print, broadcast or anything else, there's no "one size fits all" model. Each business depends on (ideally) having the right strategy focused on reaching the right customers in the right channels and at the right time.
Piece of cake, right?
When you consider how challenging that mandate is, it's no wonder many snake oil salesmen want to fit you into their box, applying the same "strategy" they're using with everyone else.
So, why would I suggest that everybody needs both Pinterest and LinkedIn in my latest Biznology blog post?
Well, read it and see.
---
Are you getting enough value out of your small business website? Want to make sure your business makes the most of the local, mobile, social web? thinks helps you understand how to grow your business via the web, every day. Get more than just news. Get understanding. Add thinks to your feed reader today.
And while you're at it, don't forget to follow Tim on Twitter.
Tim Peter & Associates helps companies from startups to the Fortune 500 use the web to reach more customers, more effectively every day. Take a look and see how we can help you.
Technorati Tags: Biznology, LinkedIn, mike moran, Pinterest, social, social commerce, social marketing, social media, social search, social strategy