Four Key Elements of Modern Hospitality Marketing [Travel Tuesday]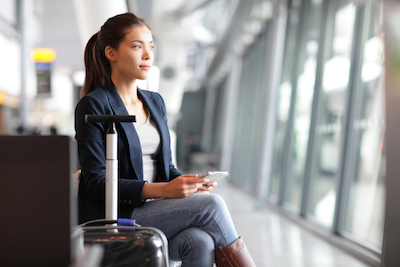 Luxury Daily discussed a new report from L2 recently that looked at the challenges facing the hotel industry over the next couple of years. And while it focused on luxury hotels specifically, the report highlights challenges every hotel marketer is dealing with today. Here's one key takeaway:
"To wrangle the young affluents of 2019 and beyond, luxury brands must offer content that will drive consumers to brand sites and apps rather than to OTAs. The fee imposed by online travel agencies, an average of 20 percent according to L2, has eroded the margins of luxury hotels while also offering consumers a one-stop-shop for online booking, making bookings through a brand platform particularly important."
No doubt.
The simple fact is that four key elements of modern hospitality marketing play a significant role in building that continued connection with guests. These include:
Content Marketing
Personalization
Ratings and Reviews
Overall Guest Experience
Content Marketing
There's no two ways about it. Just like Coneheads, guests "consume masse quantities" of content prior to making their booking decision. That's what led us to state that, for travel marketers, content is king:
"Creating the right content to attract the attention of guests on search and social depends on both quality and velocity. Use the 'Snackable, Shareable, Sharp' Content Framework, to meet those needs, gain guest attention and drive social actions. Ensure you're regularly updating your photos and start thinking about testing video for your hotel. You may be fighting content shock, but it's a fight you can win. Guests love exploring and learning more about their future destinations and stay. And because of that, for travel marketers, content is still king. It might be cliché, but it's true all the same. Long live the king."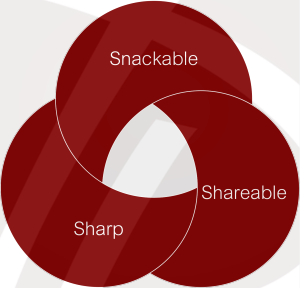 And, of course, you must have effective content to make social media channels work for your hotel.
Personalization
Now, if you want to make that content work even harder for your hotel, you've got to look at the benefits of personalization. For instance, a recent post here on Thinks explained the importance of personalization:
"Put your data to work; use you hotel's guest data to provide a more personalized experience to guests at every opportunity throughout their journey, pre-stay, on property, and post-stay.

OTA's and intermediaries have embraced this approach in a huge way. The Wall Street Journal recently quoted Priceline CEO Darren Huston as saying, '…younger travelers don't want to be bombarded with choices but prefer hotel searches closely tailored to their profiles.'"
And personalization is about much more than just data. As we've noted in the past, personalization starts with a person:
"In the ongoing fight with OTA's, you simply have many more opportunities to take care of your guests than the OTA's. For one thing, they're usually standing in your lobby, talking with your staff, when faced with a challenge during their stay. Deploying guest-focused personalization technology — and training your staff on how to use it — can only help enhance your guests' stays, which in turn should drive greater loyalty and increased revenue from repeat stays.

So, when you get down to it, this really isn't about technology or personalization or fancy toys. Instead, as I've mentioned before, '…it's about hospitality.'"
Ratings and Reviews
We've long called managing your ratings and reviews the single most effective way to improve your brand's digital marketing. Here's one key quote from the original post on the topic:
"Studies from Chris Anderson at the Cornell University Center for Hospitality Research and Michael Luca at Harvard Business School [PDF link] show revenue gains of around 5% to 11% for each increase in star rating across popular review sites like TripAdvisor and Yelp (this data supports the findings from my own research behind the P's & Q's model I talked about a couple of weeks ago)." [Editor's note: We updated and followed up that research with this look at the key revenue levers driving profitability just a few months ago]
Overall Guest Experience
Of course, it's tough to expect great reviews if your guests have a poor experience before, during, or even after their stay. That's why the guest's overall experience, the overall value proposition matters so much. As we've noted before:
"…Priceline CEO Darren Huston recently explained, highlighting your brand value matters. This is the guy responsible for Booking.com stating outright that there's more to capturing guests than simply taking responsibility for the booking."
That underscores just how much OTA's want to own the guest every step of their journey, including on mobile. Hell, they're using mobile as their key tool to provide an outstanding guest experience every step of the way.
But, shouldn't that be your job?
Conclusion
The simple fact remains that helping guests throughout their journey depends on a number of players, both direct and indirect. It's unlikely that OTA's are going anywhere anytime soon, and the growth of players like AirBnB further complicate the picture.
At the same time, successful hotel marketers know that guests need their questions answered throughout their journey, guests expect personalized attention, guests will share their thoughts with friends and family when they've had a great experience… and even more so when they've had a poor one, and that their overall experience plays a huge role in whether they'll stay with you again. Period. Which is why successful hotel marketers focus their efforts around their content marketing activities, personalizing content to meet guest needs, driving positive ratings and reviews, and ensuring a positive overall guest experience. It takes effort and attention to detail. But isn't that what hospitality is all about?
If you're looking to learn even more about how changing guest behavior shapes hospitality marketing, e-commerce, and distribution, be sure an register to receive a special report I've produced in conjunction with hotel marketing firm Vizergy, "Digital Hotel Marketing in a Multiscreen World." While it's targeted specifically at hotel and resort marketers, the lessons apply to just about any business. You can get your free copy of the report here.
You might also want to check out these slides I had the pleasure of presenting recently about the key trends shaping marketing in the next year. Here are the slides for your reference:
Finally, you will definitely want to check out some of our past coverage of the mobile, local, social web and how to make it work for your hotel, including: