Google's Android Pay (Maybe) Addresses its Mobile Wallet Problem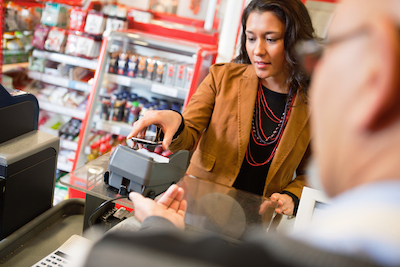 It's finally happened. In the least surprising announcement from Google's I/O keynote earlier today, Big G introduced Android Pay, a new mobile wallet platform that, according to The Verge, "…will take the place of Google Wallet on your phone."
And, in possibly the lamest prediction I've ever made, I'd pointed out how obvious and necessary this move is earlier this year:
"Of course, as I've said many times, [mobile payments aren't] just about Apple. Google, if they're serious about mobile as a platform, have to get into the mobile payments game in a big way (I mean more than just their current, somewhat hobbled Google Wallet offering)."
And now they have.
Google's introduction of their "mobile buy button" a few weeks ago shows that the search giant is starting to get serious about improving the mobile payments game, a critically important component for improving conversion rate and purchasing activity on mobile devices. However, it will take some convincing to show customers will adopt the service. Here's the Verge describing how the new wallet works:
"Android Pay will power in-app and tap-to-pay purchases on mobile devices. Google Wallet will stick around, but it will power Play Store purchases outside Android, say on the web, and facilitate peer-to-peer payments you can make through the app and on services like Gmail. Confused? Let the new branding wash over you, and stop worrying so much."
Ugh. The Verge sums up Google's past (unfortunate) efforts here perfectly:
"The history of Google's work on mobile payments has always embodied this frustrating mix of promising ambition and confusingly fraught execution."
I'm unconvinced, but let's hope they get it right this time.
Ultimately, I don't care whose mobile wallet wins. Mostly.[1] You shouldn't either. But you definitely want to see customers start using mobile wallets and using their phones to make purchases.
There's a long way to go here, but it ought to be fascinating to watch. If you're interested in past coverage of mobile wallets, and their importance to mobile commerce overall, make sure you check out these posts:
Do you want learn even more about how your customers' changing behavior shapes e-commerce and marketing? Be sure an register to receive a special report I've produced in conjunction with hotel marketing firm Vizergy, "Digital Hotel Marketing in a Multiscreen World." While it's targeted specifically at hotel and resort marketers, the lessons apply to just about any business. You can get your free copy of the report here.
You can also check out these slides and video from my recent webinar, "Digital Marketing Directions: Three Key Trends Driving Your Marketing Next Year":
And, finally, you might want to take a look at some of our past coverage of the e-commerce, mobile commerce, and digital marketing overall, including:
Note — Why Care Whose Digital Wallet Wins? You could argue that Google already holds too much data about customers, and, as the primary seller of advertising on the Web, represents the biggest threat to your business. As noted previously, "When someone else completely controls the road to your customers, it shouldn't surprise you when they decide to install tollbooths." That said, lots of customers aren't buying on mobile today because it's just too hard. Anything that improves the experience — at least for now — has more upsides than downsides. Plus, I'm not sure that Apple, Amazon, PayPal or any other credible competitor is any less risky. So, yes, let's be sure we keep an eye on the potential toll collectors. But let's get customers buying too. [Return to main post body]