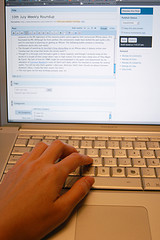 Matt Cutts sure knows how to get the SEO community worked up, doesn't he? Cutts, Google's head of webspam, told the community recently that guest blogging is dead, due to its overuse by search marketing companies for link-building. Money quote:
'Ultimately, this is why we can't have nice things in the SEO space: a trend starts out as authentic. Then more and more people pile on until only the barest trace of legitimate behavior remains. We've reached the point in the downward spiral where people are hawking "guest post outsourcing" and writing articles about "how to automate guest blogging."' [Editor's Note: The deluge of requests like these that I receive on a daily basis is one of the reasons I'm no longer accepting unsolicited guest posts]
Anyway, no one would blame you if you said, "OK. That's good enough for me. I'll never guest post again." After all, when Google (in the form of Matt Cutts) says something's toast, well, that's usually good enough for most people.
It's also wrong.
The reality is much more complex than that. Guest blogging, when done well, isn't only about links. In theory, anyway, guest blogging is supposed to be about raising awareness of and traffic to your brand's web presence (and both of those comprise a huge part of a solid e-commerce and Internet marketing strategy). Given that that's the case, why would throw away years of work building relationships with publishers and bloggers? And why would you abandon a tactic that offers you brand awareness and traffic? 
Done well, guest blogging can (and often should) continue to be part of your brand's Internet marketing efforts. In fact, Cutts suggested the same in the comments to his original post (Search Engine Land offers a solid round-up in the "Postscript" of this article).
Among the ways you can make it work for your brand include:
Focusing on quality sites in your market, emphasizing quality over quantity.
Building the right content for your site first. 
Writing and commenting regularly on a small set of external sites to build a relationship.
Tracking traffic and conversions from your selected sites.
My latest Biznology post explores each of these tactics (and several others) in more detail. Check out the whole post, "Should Guest Blogging Still Be Part of Your SEO Strategy?" when you get a chance for more tips on how to make guest blogging work for your brand. Because guest blogging is not dead. Not by a long shot. (And, no, it's not a zombie, either). Like much of Internet marketing, it's evolving and changing as your customers change. The question is whether you're changing along with it.
Do yourself a favor and read the whole post over on Biznology.
I'd also recommend you look at this presentation, "Today and Tomorrow: The Changing Customer Journey," which looks at how your customers are changing… and how you can change with them:
You can also register to receive a free copy of my special report, "Digital Hotel Marketing in a Multiscreen World," produced in conjunction with Vizergy, here. While it's targeted to the hospitality industry specifically, most of the lessons apply across verticals.
Finally, you might also enjoy some of our past coverage of the social, local, mobile web and what it means for your business, including: