How to Use Emotion and Storytelling in Digital Marketing (Travel Tuesday)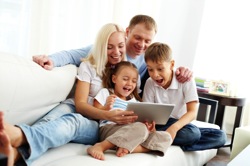 Picture this: An injured football player hobbles down the tunnel, leaving the field in obvious pain. A young boy steps forward, offers him a Coke… and history is made.
If you've never seen this commercial, you probably weren't alive in the late '70's/early '80's. (And if you weren't alive then… man, I'm getting old. But I digress).
If you were alive, you undoubtedly remember this ad. It was hugely popular, not only airing originally during a game in October, but several more times during the 1979 season and during that year's Super Bowl.
Now, here's a question for you: Why do you remember a 60-second spot from 35 years ago featuring a player and child actor who both retired not long after the spot first aired?
And, what in the world does this have to do with marketing a hotel, resort, or any other business online?
How about we answer those in order.
"Have a Coke and a Smile"
The reason you remember the Mean Joe Green commercial ties back to one of the lessons from last week's HSMAI conference:
"Customers remember how you made them feel, not what you said."
Coke's classic ad demonstrates that message perfectly, fueling warm feelings towards the actors, the commercial, and, most importantly, the brand. Hell, they didn't even disguise the intent: The whole ad campaign was called "Have a Coke and a Smile." Subtle.
Of course, you do the same thing every day in the hospitality industry, helping your guests have a great day, no matter the circumstances. A restaurant owner I've worked with talks about "nailing the rolls and coffee," suggesting that guests will remember their first interaction at the table (a server bringing rolls), and their last experience (a cup of coffee with/as dessert), more than the rest of the meal. The message for his employees is clear: Guests may forget a small error or two during the meal, but a bad first or last experience will stick with them — and will keep them from coming back.
It's easy to overlook the emotional aspect of the guest experience online though, given how difficult it is to drive emotional engagement in popular digital channels. Search, for example—with its limited character count and "10 blue links" appearance—kind of sucks for serious story-telling designed to elicit emotion. Happily the increased use of images in search results may change this. And other channels, such as social, work brilliantly for story-telling and enhancing an emotional connection. Social, at its core, is people. And people are emotional beings.
More to the point, pretty much every purchase decision is an emotional choice. Even the most logical shoppers won't reach for their credit card until they're satisfied, emotionally, they've made the right choice. Even business customers want to be sure they're aligning with corporate policies and, often more importantly, making their boss happy. Fear is a powerful motivator because it's a powerful emotion.
Speaking of fear, a number of psychological models for emotions exist. Here are some of the most common emotions marketers seek to evoke, along with some examples of where you've seen them before:
Happy. Used all over the place. Very common in travel marketing (picture a couple on a romantic getaway, blissfully relaxed, or a happy family frolicking in a pool).
Excited. Frequently used for adventure tourism, skiing, that sort of thing. Laughter can elicit a similar response, which is why there's so much humor in advertising.
Tender. Go ahead, watch that iPhone commercial with the kid making a video for his family at Christmas and tell me you're not touched. No, I'm fine. That's just something in my eye. Like a twig, or a branch.
Calm/Serene. The bread and butter emotion for many resorts and spas. When done well, it's brilliant. However, can easily slide into self-parody or, worse, boredom (worse, because at least people will remember the unintentionally funny one).
Scared. Think about how most security companies promote their alarm systems, or those images of elderly relatives who've fallen and can't get up. Not usually a great travel marketing play.
Sad. The go-to emotion for many charities. Picture Sarah McLaughlin singing a tear-jerking song while images of hungry children or animal shelters appear on your screen. Almost always the wrong choice for marketing your hotel or resort. (Rough rule of thumb: Sadness usually doesn't lead to immediate action).
Angry. I can't think of many examples from "traditional" marketing, but fairly common in political/cause marketing campaigns. Get your target audience pissed enough at your opponent and they'll vote/march/rally/what-have-you to change the world.
Now, what does any of this have to do with digital or e-commerce? How can you use these emotions online?
Glad you asked.
Emotions + Digital = Successful Modern Marketing
Driving an emotional response — and one that leads to a booking — takes some doing. Here are four tips to get you started:
It's worth noting that Coke's "Mean Joe Greene" and Apple's "Misunderstood" spot hit all the right notes here, too. There's a reason Coke and Apple get such high marks for their marketing. And such loyal business from their customers.
Speaking of storytelling, you may also enjoy these slides from another recent speaking engagement "Elements of E-commerce: How Digital Storytelling Drives Revenue and Results" here:
If you're interested in learning even more about the future of e-commerce and marketing via the social, local, mobile web, register to receive a special report I've produced in conjunction with hotel marketing firm Vizergy, "Digital Hotel Marketing in a Multiscreen World." While it's targeted specifically at hotel and resort marketers, the lessons apply to just about any business. You can get your free copy of the report here.
You might also enjoy some of our past coverage of the social, local, mobile web and what it means for your business, including: