Is your business still invisible? Why?
The key point in Jackie Huba's excellent the invisible business is that visibility builds trust. You know what this says?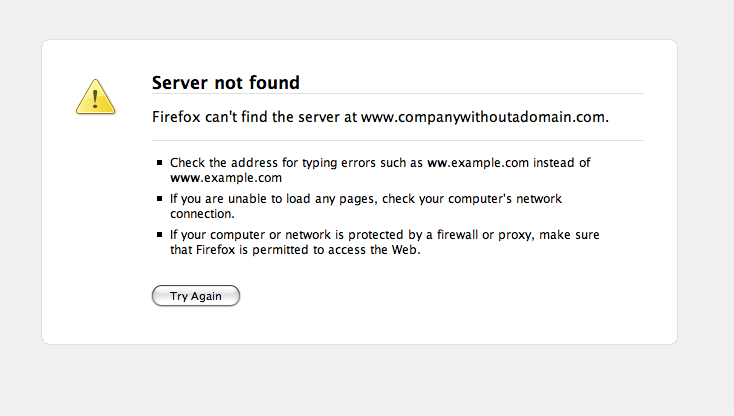 It says you're not in business.
This isn't about e-commerce or driving sales online (though you'll want that in the long run). This is about Marketing 101. No matter what your business is, you need a website. Period.
At a bare minimum, you should have your own domain and some simple content with your contact information. In the old days, folks called it brochure-ware and for some business types (doctors, lawyers, dentists) it may still be all you need.
For my money, this is the most basic setup that allows you to grow over time, while covering your needs today:
Create an account at WordPress.com for use as a content management system/hosting environment. You'll be able to point your own domain to WordPress for less than $10 a year and move it later if need be.
Pick a theme you like. Don't worry about getting too wild. Just ensure it matches the tone of your business.
Populate content about your business as posts or pages.
Go to Register.com, GoDaddy, or Yahoo Small Business and buy a domain. Aaron Goldman at GoodURLBadURL provides some excellent techniques on appropriate domain name tactics.
Point the domain to your WordPress setup.
That's it. The whole thing will cost less than $20 for a year.
Sure, you can do lots more, but if you don't have a site today, don't overthink it. Just get started. Don't let yourself remain invisible anymore.
UPDATE – Anne Zelenka at Web Worker Daily offers some other excellent ways to create a small business website quickly. And I've created a detailed review/comparison of WordPress, Weebly, Synthasite and SiteKreator for you to check out.
---
Are you getting enough value out of your small business website? Want to make sure your business makes the most of the mobile, social, local web? thinks helps you understand how to grow your business via the web, every day. Get more than just news. Get understanding. Add thinks to your feed reader today. Or subscribe via email.
And while you're at it, don't forget to follow me on Twitter.