It's All E-commerce… And F-commerce, Too.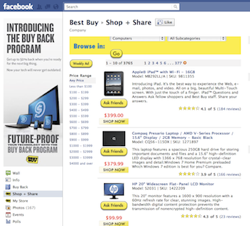 Another great stat from TechCrunch this week noting 50% Of e-commerce site visitors are logged in to Facebook. Money quote:
"A Facebook spokesperson confirmed that ecommerce sites are increasingly adding social features. She shared with us a new statistic: 88% of Internet Retailer Top 200 retail sites are integrated with Facebook.

Sociable Labs' founder and CEO Nisan Gabbay explained that the target age market for an ecommerce site has surprisingly little influence on the percentage of visitors that were logged in to Facebook. Those aimed at college students were closer to 60%, but even those with middle aged saw at least 40% of visitors logged in."
At the risk of repeating a broken record, e-commerce is now everywhere. "Shopping behavior" and "purchase funnels" intersect with ordinary, everyday activities on a regular basis. And the integration will only deepen over time. Stay tuned.
---
Are you getting enough value out of your small business website? Want to make sure your business makes the most of the local, mobile, social web? thinks helps you understand how to grow your business via the web, every day. Get more than just news. Get understanding. Add thinks to your feed reader today.
And while you're at it, don't forget to follow Tim on Twitter.
Tim Peter & Associates helps companies from startups to the Fortune 500 use the web to reach more customers, more effectively every day. Take a look and see how we can help you.
Technorati Tags: e-commerce, e-commerce satisfaction, e-marketing, ecommerce, F-commerce, Facebook, facebook, marketing, measurement, metrics, social, social commerce, social marketing, social media, social media predictions, social search, social strategy, strategy