Leveraging Your Existing Guests to Drive Direct Reservations (Travel Tuesday)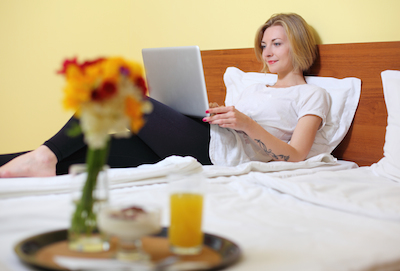 Flip.to recently asked me to contribute a post to their blog about how hotels can drive more direct business each night. Clearly, this is an important topic (one I've covered before), but it seemed even more important to explain why hotels continually appear to struggle. Here's one reason:
"According to research from Expedia, guests visit 38 sites on average over the course of 45 days before they make a reservation. 38 sites! 45 days! That's crazy, right? And, remember, that's not 45 days prior to the stay date; it's 45 days ahead of the booking date. Seriously, what's taking them so long? Why can't they make up their mind?"
Guests really do struggle to find the right answers to their questions. They need help. In fact, as the article notes:
"What you and your guests both need is someone who can help ease the guest decision process and cut through the cluttered content landscape, pointing out the benefits your property offers in a timely and efficient manner."
Many hotel marketers might think that's what they're already doing, a point which the post addresses:
"…yes, that's what your sales force and marketing team strive to do every day. Most do a pretty good job of it, too. But, let's be fair. It's really hard work… Google's made it more challenging to rank in search, favoring PPC ads over its traditional organic results… [and] getting your content in front of guests on sites like Facebook has gotten both more difficult and more expensive due to the social media giant's algorithm changes over the past couple of years. And even those messages that make it through Facebook's filters are fighting for your guests' time, attention, and action."
The post continues:
"The simple fact remains that you're competing against the hundreds or thousands of marketing messages that your guests see every single day. In such an oversaturated media environment, it's no surprise that even well-trusted brands and long-standing relationships sometimes struggle to make an impression—to say nothing of close the sale."
Sounds gloomy, doesn't it? Well, no. Obviously, I wouldn't offer you nothing but bad news without also offering a solution:
"But here's the good news. You've got a secret sales force at your disposal, one who knows all about the exceptional experience and value your property offers and represents a trusted source of information to the thousands of potential guests you're looking to reach every year. Even better, you don't have to cover much overhead to put this secret sales force to work.

So, just who is this secret sales force?"
In the interest of helping you right away, I'll let you know that this secret sales force depends on leveraging your existing guests. They represent a huge opportunity that far too many hotels overlook. But, how do you leverage your existing guests to help sell your property, lower your cost of distribution, and drive more direct business? To answer that question, I invite you to read the whole article over on Flip.to's blog. You'll be glad you did.
If you're looking to learn even more about how changing guest behavior shapes hospitality marketing, e-commerce, and distribution, be sure an register to receive a special report I've produced in conjunction with hotel marketing firm Vizergy, "Digital Hotel Marketing in a Multiscreen World." While it's targeted specifically at hotel and resort marketers, the lessons apply to just about any business. You can get your free copy of the report here.
You might also want to take a moment to review the slides from my recent webinar, "Digital Marketing Directions 2016: The Key Trends Driving Your Hotel Marketing Next Year" here:
Finally, you will definitely want to check out some of our past coverage of the mobile, local, social web and how to make it work for your hotel, including: