Olympian Content Marketing: 8 Content Marketing Tips (Small Business E-commerce Link Digest – July 27, 2012)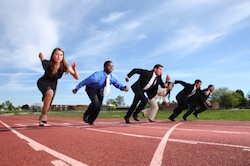 Hey, maybe you've heard, but there's this big athletic competition starting up today over in London. Watching gifted and talented athletes give their all reminds me (as many things do) of the very best business owners and marketing managers. You're competing every day for gold, silver, and bronze, too, competing and winning (and, sometimes, falling a little short). But, like the best athletes, you don't give up. So, here's an Olympic-sized list of content marketing tips for you. Let the Games begin!
Medal-worthy stuff all around from an amazing group of marketing superstars. They may not be able to pole vault or run 100 meters in 9 seconds, but they can help you lift your business to the medal platform. Enjoy!
---
Are you getting enough value out of your small business website? Want to make sure your business makes the most of the local, mobile, social web? thinks helps you understand how to grow your business via the web, every day. Get more than just news. Get understanding. Add thinks to your feed reader today.
And while you're at it, don't forget to follow Tim on Twitter.
Tim Peter & Associates helps companies from startups to the Fortune 500 use the web to reach more customers, more effectively every day. Take a look and see how we can help you.
Technorati Tags: content, content marketing, content strategy, marketing, marketing best practices, search, search engine marketing, search engine optimization, sem, seo, small business blogging, social, social commerce, social marketing, social media, social search, social strategy