OTA's vs. Chain Brands: Expedia Comes Out Swinging
Want to drive more direct bookings to your hotel? Click here to learn more
---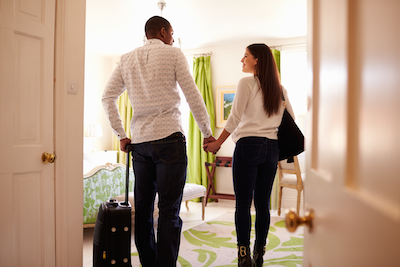 Shots fired.
In the last several months most of the major hotel chains have worked aggressively to promote the concept of driving guests directly to their brand websites. And, amazingly, the major OTA's have simply sat back and done nothing to respond to this challenge.
Oh, wait. That's not what happened at all. Quite the opposite, in fact.
In a recent post on Tnooz, Melissa Maher of Expedia responded to this recent competitive shift, and, in effect, declared all out war on the brands by claiming that these hotel programs actively hurt individual hotel owners. Maher's key quote:
"In recent years, Expedia's average compensation rate has gone down several hundred basis points to make the OTA value proposition to owners even stronger. Unfortunately, the chains, who are mostly asset-light marketing and distribution companies, have yet to make a step in the same direction for the benefits of their owners by reducing their franchise fees.

Expedia has outpaced the chains' direct channels growth by demonstrating consumer value and, as a result, increased the OTA share of the mix of chain hotels' bookings. This means that owners are now feeling the pinch of the large franchise fees that chains charge on bookings made via OTA channels even more."
Damn. That's harsh. Maher continues,
"Owners of franchised hotels should take a step back and consider how these actions by their chains impact their results.

If an owner agrees that making great rates available for consumers shopping and booking on Expedia is not only in the best interest of consumers but also in their own best interests, they should contact their chains and let them know.

More generally, they can work with their Expedia contacts on how they can better serve their mutual customers."
That logic might not hurt hotel owners. But it does make my head hurt. I'd point out that Maher's official title is senior vice president of the Global Partner Group. "Partner," eh? In the immortal words of Inigo Montoya, Ms. Maher, "You keep using that word. I do not think it means what you think it means."
Do you know what actually drove down Expedia's average compensation rate over the last several years? Aggressive negotiation by those same brands that Maher takes issue with. It's understandable that OTA's might have some lingering feelings about that.
(Full disclosure: I used to work for two major hotel brands and still hold stock in one. However, I'm not "pro-brand;" I'm "pro-hotel." Brands are a useful option for many hotel owners, but many independent hotels can and do succeed without chain affiliation. Most of our hospitality clients today are independent hotels and manage to do quite well for themselves. It's not a question of one being better than the other; it's a question of which approach is right for your hotel. Additionally, I'm not anti-OTA. I've argued OTA's represent an important component of your distribution mix — at least when not trying to soak you for more money. Again, it's back to where do they fit the needs of your property.)
What's Really Going On With Expedia vs. Chain Brands
The biggest problem with Maher's post is that comparing Expedia (or any OTA) to a chain brand is like comparing apples and supermarkets. One tries to satisfy your hunger on an as-needed basis. The other tries to keep your pantry filled all year long. It's absolutely true that sometimes all you need is a snack. It's also true that some supermarkets need to do a better job of filling your pantry at a fair price. But they're still radically different solutions to the same underlying problem. In the analogy, hunger. In the real world, putting guests in your hotel, night after night.
Maher's right about one thing. Margins on OTA's have fallen dramatically over the last couple of years, sometimes ranging as low as 12-15% for branded properties (independents often pay more due to a lack of scale/bargaining power). And in some cases, that percentage comes close to the share of revenue chain properties pay to their brand each year.
The core problem with Maher's argument is this: Most chains provide lots more than just reservations. They also offer some combination of services that can include:
Your hotel's technology stack (PMS, RMS, connectivity services, etc.);
Recognition/rewards/loyalty programs;
Additional reservations channels such as a GDS chain code, travel agency sales, and a call center;
Revenue management services;
Operational and training support;
Access to financing;
Marketing of your destination and individual property alike;
volume purchasing and various other management services/support for your property managers.
Oh, and the negotiating power that's helped drive down the cost of OTA margins.
By contrast, do you really think Expedia purchased Travelocity and Orbitz simply so they could lower margins for hotel owners? Probably not.
Does Your Hotel Need a Brand?
All that said, that doesn't mean that every hotel should carry a brand. Everything I've just mentioned that a chain provides only matters if your hotel and your guests actually need it and if you can get it for the right price. In fact, in many ways it's easier today for the right kinds of properties to survive and thrive as independent hotels than ever before.
Thanks to significant innovations by folks like Amadeus, Sabre, SHR, SiteMinder, TravelTripper, TravelClick and others, independent hotels have a wealth of options to connect with guests. Plenty of outstanding hotel marketing solutions exist (including some offered by your humble blogger's company) to get your property's name in front of potential guests.
"Soft" brands, including legacy players such as The Leading Hotels of the World, Preferred Hotels and Small Luxury Hotels of the World, as well as new entrants from the major chains themselves (BW Premier Collection from Best Western, Choice's Ascend Collection, Curio from Hilton, Marriott's Autograph Collection, Starwood's Tribute Portfolio, etc.) provide yet another set of alternatives.
And the OTA's have responded here too with Priceline introducing BookingSuite a couple years back and Expedia looking to power bookings and investing in Alice to support guests throughout their journey in partnership (there's that word again) with hotels.
In other words, you've got plenty of options available to you. The real question remains which one works best for your property's — and your guests' — needs.
Conclusion
Almost a year ago to the day I asked, "are hotel brands doomed?" (independent hotels, too, for that matter). At the time Starwood had just put itself up for sale but had not yet joined forces with Marriott. Airbnb and OTAs were putting heavy competitive pressures on hotel brands. And at that same time, most hotel brands were still figuring out how to drive more direct business.
Fast forward a year and, oh, how the world has changed.
The key takeaway is that you can't let Expedia — or anyone else for that matter — try to confuse the issues here. Expedia's claims have little to do with what's truly best for your hotel and have lots to do with what's best for Expedia. They're (perhaps understandably) frustrated with the beating they've taken from the chains over the last few months and have decided to hit back. Hard.
As a property owner or manager, your job is to take care of your guests and to do so profitably. You can accomplish that effectively as part of a chain or as an independent, using OTA's where they make sense and driving direct business everywhere else. Work on building relationships with your guests and telling your property's story most effectively. And let's hope the "partners" figure it out soon and then focus on helping guests, too.
OTA's vs. Chain Brands: Expedia Comes Out Swinging — TL; DR
Hotels should consider the costs and benefits received of each component of the value chain: brand, channel partner, marketing agency, web developer, etc.
Brands and channel partners like Expedia offer vastly different services. Yes, there's some convergence among their services going on. But it's hardly an apples-to-apples comparison at this point.
Brands aren't doomed. Neither are independents. Each can succeed in the marketplace if they offer value to their guests and choose the right partner(s) to help serve their guests' needs.
Expedia — or any OTA — claiming they can meet 100% of your hotel's needs at this point is, frankly, just silly.
Relying on any one "partner" only hurts you in the long run as it creates a gatekeeper effect, increasing their opportunities to charge you more for their services.
Don't let Expedia — or anyone else in the discussion — misdirect you from your actual objective: Driving increased revenues, ongoing support, and exceptional return on your investment from each component of the value chain.
---
If you're looking to learn even more about how changing guest behavior shapes hospitality marketing, e-commerce, and distribution, be sure an register to receive a special report I've produced in conjunction with hotel marketing firm Vizergy, "Digital Hotel Marketing in a Multiscreen World." While it's targeted specifically at hotel and resort marketers, the lessons apply to just about any business. You can get your free copy of the report here.
You might also want to take a moment to review the slides from my recent seminar, "Digital Marketing Directions 2016: The Key Trends Driving Your Hotel Marketing Next Year" here:
Finally, you will definitely want to check out some of our past coverage of the mobile, local, social web and how to make it work for your hotel, including: