Riding Out the Storm: How To Make Sure Your Business Does Too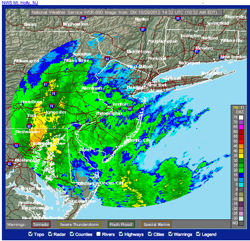 We're hunkering down for Hurricane Sandy here in Northern NJ/NYC, so posting may be a bit light this week (I'm keeping my fingers crossed we don't lose power for a week as they're suggesting).
In the meantime, this seems like a good time to review best practices for keeping your website — and your business — online when things get, um, hairy.
I've looked at 7 critical ways to ensure your website stays alive previously, along with what to do when your host gets hacked.
It's a great idea to keep a landline, too, for your business (and forward calls there before the power goes out) as well as a car charger for your cell phone.
If you're in the path of Hurricane Sandy (and, if you're anywhere on the East Coast of the US this week, you are), be safe, warm and dry. I'll keep you all updated on Twitter and Google+ how things are going here.
---
Are you getting enough value out of your small business website? Want to make sure your business makes the most of the local, mobile, social web? thinks helps you understand how to grow your business via the web, every day. Get more than just news. Get understanding. Add thinks to your feed reader today.
And while you're at it, don't forget to follow Tim on Twitter.
Tim Peter & Associates helps companies from startups to the Fortune 500 use the web to reach more customers, more effectively every day. Take a look and see how we can help you.
Technorati Tags: hosting, hosting solutions, internet business, internet marketing