Should you care about your competition's conversion rate?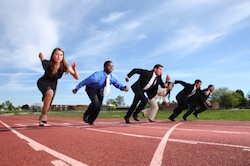 Just a quick follow up to my post last week about "industry average" conversion rates. Another question people ask me all the time is how their conversion rate compares with their competition. It's sort of the same question as "what's my industry's average conversion rate", but asked in a different way. And, I'd argue that the answer to this question just isn't that important.
Here's why.
Let's say you found out that your competition converts half as well as you do (ignoring, for the moment, why it's almost impossible to compare conversion rates). What would you do different if you knew your competition's conversion rate? Are you going to change your strategy? Slow down? Take the rest of the summer off?
Probably not.
What if their conversion rate is twice as high as yours? Are you going to give up? Fold your tents and go home? Beg them to take the rest of the summer off? Again, probably not.
Data is valuable when it helps you make decisions or causes you to change your behavior. When it doesn't, it might be interesting, but, not much else. Better to spend your time focused on whether your conversion rate is moving in the right direction (which, believe it or not, isn't always up).
Does any of this mean that I'm not in favor of competitive data? Not at all. For instance, understanding market share is incredibly valuable. So is regularly conducting competitive analyses. But data like your competitor's conversion rate in isolation, in most cases, simply isn't useful to your business.
What do you think? Am I missing something? If so, I'd love to hear from you in the comments.
---
Are you getting enough value out of your small business website? Want to make sure your business makes the most of the local, mobile, social web? thinks helps you understand how to grow your business via the web, every day. Get more than just news. Get understanding. Add thinks to your feed reader today.
And while you're at it, don't forget to follow Tim on Twitter.
Tim Peter & Associates helps companies from startups to the Fortune 500 use the web to reach more customers, more effectively every day. Take a look and see how we can help you.
Technorati Tags:
analytics, Avinash Kaushik, Brian Clifton, continuous improvement, conversion, conversion rate, conversion rate optimization, E-commerce, e-commerce, e-marketing, ecommerce, Google Analytics, internet business, internet marketing, marketing, marketing best practices, measurement, metrics, Rimm-Kaufmann, competitive research, competition