The Big Problem with Paid Search on Mobile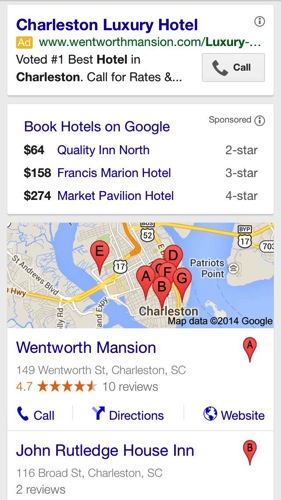 I hear from lots of people that they're not seeing the benefits they're accustomed to when using paid search on mobile. So much so, that it's caused a number of businesses to ask, "Does mobile search work?" The answer, as you might imagine, is complicated. But you can essentially assume that, yes, mobile search does work for many (if not all) businesses.
Why's it so complicated then? If it's really working, shouldn't you be able to see the answer clearly? Well… yes and no. As I point out in my latest post for Mike Moran's Biznology blog:
"…analytics for tracking mobile search aren't as robust as desktop search. Put more simply, mobile search doesn't suffer from a performance problem; it suffers from an attribution problem."
I'd mentioned in yesterday's podcast that marketing doesn't have to be hard, noting in particular the need to focus your energies around what works best. But, it's important to note that without the right measures in place, you might not easily know what's working. And, today, most of the measures around mobile conversion — for instance, tracking phone orders, measuring mobile-driven in-store traffic, etc. — either undercount the effectiveness of mobile, or don't work at all.
This isn't a problem that's going away immediately, but we're beginning to see some progress. Soon, with iBeacon, NFC, location-tracking, or other services, expect to see Google and Apple provide information on when customers carry their phones into your restaurants, retail outlets, real estate offices, auto dealerships, hotels, and more for more detailed, end-to-end tracking of customer behavior. And, expect similar details on phone tracking.
Even better, you don't have to wait for these more futuristic tools. Start looking at more advanced attribution models to track your marketing's effectiveness. Again, as I noted over on Biznology:
"…start moving away from last-click attribution and begin exploring more robust attribution models within your favorite analytics tool. I'm particularly partial to time-decay attribution as a starting point, which gives more credit to each action closer to the final conversion."
Because of the rise of millennials in the marketplace, and mobile use across all demographic segments, your business will increasingly depend on the effectiveness of your mobile paid search marketing, to say nothing of social and local services, too. Recognize for now that mobile search works. It's likely just not getting enough credit for what it delivers. Work on developing the skills and finding the partners who can help you measure its effectiveness. Mobile search is here to stay. Now it's time to make sure it gets credit.
You can learn more about how customers' changing behavior shapes e-commerce and marketing by registering to receive a special report I've produced in conjunction with hotel marketing firm Vizergy, "Digital Hotel Marketing in a Multiscreen World." While it's targeted specifically at hotel and resort marketers, the lessons apply to just about any business. You can get your free copy of the report here.
You may also want to attend a webinar called Digital Marketing Directions: Key Trends Driving Your Marketing Next Year on Tuesday, September 16. You can read all the details here.
Finally, whether you work with Millennials, Boomers, Gen X, or the Silent Generation, you might also enjoy some of our past coverage of the mobile, local, social web and how to make it work for your business, including: