Three Quick Business-Building Tips That Don't Involve Google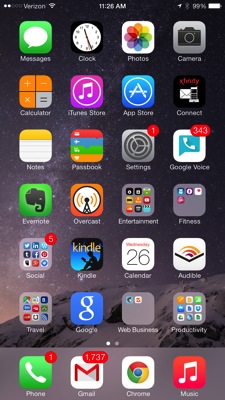 What do email, social, and channel partner apps all have in common? They're among the best ways you can grow your traffic—and your business— without Google, as I point out in my latest Biznology post. Here's a quick excerpt:
"I debated whether to include channel partners in this list at all. For one thing, you use search, social, and email specifically to avoid using channel partners. And, let's be fair, not all "partners" always actively work in your best interest.

That said, many channel partners have had great success in driving app adoption amongst customers, and may prove a valuable way to drive revenues and sales for your business. Just be sure that the ones you're choosing work as a true partner and not in competition with your own direct efforts.

The best way to distribute your products or services via a channel partners' app is an exceedingly complicated topic, well beyond the scope of this simple post. However, there are a few questions you should consider to help select appropriate partners to work with. Ask yourself:

Can this partner reach a customer I can't?
Can they do that at a reasonable cost?
Do they provide access to the end-consumer's data? (So you can continue to build your list and decrease your dependence on partners overall)"
I think you'll really enjoy the whole post, including entries on email and social—as well as a special bonus tip, too—so be sure to check it out on Biznology today.
And if you want learn even more about how your customers' changing behavior shapes e-commerce and marketing, be sure an register to receive a special report I've produced in conjunction with hotel marketing firm Vizergy, "Digital Hotel Marketing in a Multiscreen World." While it's targeted specifically at hotel and resort marketers, the lessons apply to just about any business. You can get your free copy of the report here.
You can also check out these slides and video from my recent webinar, "Digital Marketing Directions: Three Key Trends Driving Your Marketing Next Year":
And, finally, you might want to take a look at some of our past coverage of the e-commerce, mobile commerce, and digital marketing overall, including: