Want Better Email Marketing Results? Think Mobile
Consider this a quick follow-up to my look at improving email marketing effectiveness from earlier this week. Litmus Email Analytics has a cool set of information rounding up the email clients used in September, 2014. Check this out: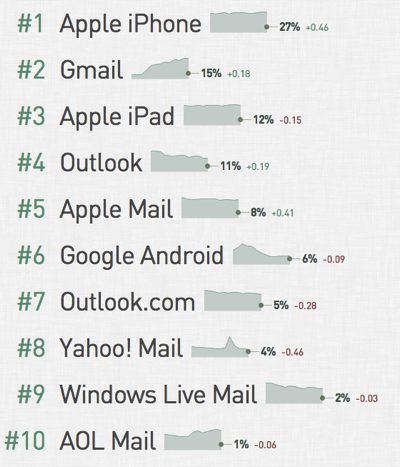 Source: Email Client Market Share
According to Litmus's data, the iPhone was the most used email client in September, with more than 1 in 4 emails opened (out of 927 million opens), in September. The iPad contributed another 12%. While Android was at #6, with "only" 6% of opens, it's not clear to me how many of the Gmail opens at #2 with 15% were on mobile devices. I suspect at least some.
I've referenced data showing that using responsive design — i.e., designs that work well regardless of the device used — boosts open rates by 20% a few times now. This Litmus data helps explain why. If 45% or more (27% iPhone + 12% iPad + 6% Android) of all opens happen on mobile devices, your customers need responsive emails to even begin to interact with your brand and your business.
Email marketing remains a key contributor to connecting with customers. It's often among the first sources of information your customers engage every day. According to Yesmail, 50% of users only read email on mobile and tablet devices. Yet, somehow, many marketers have moved away from email, leading to its status as a forgotten social network. Put simply, email marketing works for reaching qualified customers, and for driving meaningful business results.
Or, at least it will, if you help customers use it on the devices they care about most.
Want more? Then you might want to check out these slides called, "Email Marketing: Keys to List Growth," from a recent talk I gave to a private industry group:
And if you're interested in learning even more about how customers changing behavior shapes e-commerce and marketing, register to receive a special report I've produced in conjunction with hotel marketing firm Vizergy, "Digital Hotel Marketing in a Multiscreen World." While it's targeted specifically at hotel and resort marketers, the lessons apply to just about any business. You can get your free copy of the report here.
Finally, you might also want to check out some of our past coverage of the mobile, local, social web and how to make it work for your business, including: