Warning: Don't Get Swept Away By Search, Meta, and OTA Shifts (Travel Tuesday)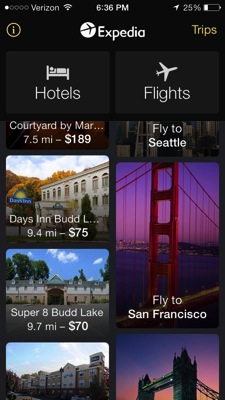 This past week's Hospitality Marketing Link Digest highlighted a Tnooz article, "Qunar marks shift from meta to OTA, from PC to mobile" and included my accompanying comment, "And the world will follow." The post also mentioned another Tnooz article that claimed the main event is now Priceline versus Expedia. I mostly agree, though think it's already Priceline vs. Expedia vs. Google with Apple potentially playing a spoiler role.
So what's really going on here? And why should you care?
I'm glad you asked.
First, the Qunar article offers a striking example of several major trends put into practice. The first is the number of consumers shifting towards using mobile as their primary way of accessing the information they need. I've covered this a ton over the last few years. The second is how mobile consumers search for that information. As noted in this post, "What Google Won't Tell You About Search Engine Marketing":
"…Google's fallen from roughly 83% of all searches to only about 2/3rds in less than two years, with Yelp, Amazon, Kayak, and others gaining huge volumes. This demonstrates why I've suggested that local search increasingly is all about apps and that search engines will look very different in the coming months and years."
We're starting to see exactly how different search engines will be. Just hang on to that point about Yelp and Kayak for a moment. We'll get back to them shortly.
But first, let's talk about Google as a metasearch in its own right. The company first launched metasearch in Google Maps all the way back in 2013. At the time, "…the real metasearch opportunity will come once Google includes hotel data into Maps." They do that now. Oh, and as you can see here, in their main search results too: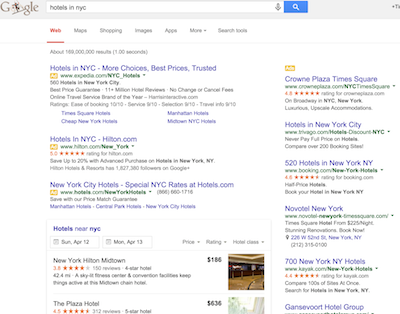 What's become clear is that metasearch and search simply aren't all that different. Metasearch supports only one part of the guests' research and booking process (for that matter, so do reviews—which might help explain some of TripAdvisor's moves lately). Now, finding the "best" price is a critical part of that process for many guests; that still doesn't make it the whole enchilada. Here's a key quote from that post:
"…metasearch isn't a product or category or business. It's a feature. Google can include metasearch results into its search engine results pages without blinking an eye and undermine all the work done by Kayak, Trivago, and TripAdvisor on building differentiated metasearch offerings (To be fair, though, Priceline, Expedia, and TripAdvsior can do the same by incorporating metasearch into their regular search results, too)."
We're seeing this trend all over the place. For example, as "The Big Myth About Hotel Metasearch" explained:
"Orbitz, CheapTickets.com, and LastMinute.com have partnered with Intent Media to show price ads within the hotel search results on their sites. In other words, putting metasearch and traditional OTA results side-by-side. As Dennis Schaal of Skift notes: 'The distinctions between online travel agencies such as Expedia, Priceline and Orbitz, and travel metasearch sites such as Kayak, TripAdvisor and Hipmunk are getting really blurry.'"
Which brings us back to Qunar. They're already demonstrating where the rest of the world is heading. Blurry lines, indeed.
Of course China has its own differences. Its most notable difference is the number consumers online who started with mobile instead of on desktops. The lack of landline broadband access in many communities has definitely influenced the percentage of users with mobile as their primary way of accessing the Internet. But we're catching up quickly. The other major difference is the greatly reduced role Google plays behind China's "Great Firewall." But as the data highlighted above shows, we may be starting to catch up there, too.
That's the threat Google faces and why it must double-down on its travel ambitions or risk losing even more search share to the Yelps, Kayaks, Expedias and Pricelines of the world.
Where does Apple fit in? Apple could, in theory, acquire Yelp or someone similar to complement their burgeoning search services through Siri, the iPhone and Apple's in-car technologies. As mentioned in this look at why Apple might choose Yelp as its go-to search engine:
"Fundamentally, search is becoming a local offering. [And] proximity has long represented a key driver of why guests choose hotels."
Yelp (or a Yelp-like offering), could position Apple as yet another competitor to Google and shake up the environment even more.
Metasearch probably isn't going away immediately. But it is evolving. So is travel search overall. That's the whole point. Qunar's shift represents the logical next step. Just not the last. Don't be surprised as other OTAs and metasearch players take similar steps in the US, and Europe, too.
The real question is what you should do about it. How can you ensure you don't get swept away by these search, meta, and OTA shifts? Actually, it's easier than you might think. Continue to focus relentlessly on how each channel —search, metasearch, OTA's, email, social, and so on—impacts your cost of distribution and you'll be in good shape no matter what the future of search looks like.
Want to learn even more about how customers changing behavior shapes e-commerce and marketing? Be sure an register to receive a special report I've produced in conjunction with hotel marketing firm Vizergy, "Digital Hotel Marketing in a Multiscreen World." While it's targeted specifically at hotel and resort marketers, the lessons apply to just about any business. You can get your free copy of the report here.
You might also want to take a moment to review the slides from my recent webinar, "Digital Marketing Directions 2015: Three Key Trends Driving Your Hotel Marketing Next Year" here:
Finally, you might also enjoy some of our past coverage of the social, local, mobile web and what it means for your business, including: