What The Gap Can Teach Us About Mobile E-commerce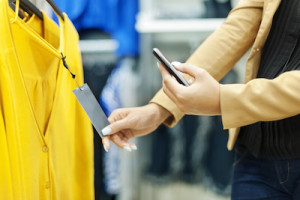 Fast Company explores "…Gap's plan to get back into your drawers." (you can insert your own Michael Scott joke here). Given their struggles in recent years, what can The Gap teach us about mobile e-commerce? A lot, actually. Buried in the profile is a great quote from Gap's EVP of digital and customer experience, where he quotes the company's CEO,
"…choosing convenient and transactional versus emotional and engaging is a false dichotomy."
Exactly.
Emotion plays a huge role in your customers' purchase decisions. In fact, I'd argue that emotions drive most purchase decisions
(and have; see slides 137-141 in my presentation "The Truth: How the Social, Local, Mobile Web Affects Sales Online and Offline"). For instance, even the most hardened business executive considers how pulling the trigger on a major technology investment will help or harm her career. Your digital channels must consider any emotional concerns your customers have in addition to providing a clear, usable experience. And, to their credit, many businesses do a reasonable job of this with their websites.
But…
Later, the article concludes with this statement,
"[The Gap's] fall 2015 collection will arrive in August. Many customers will see it first—and shop from it—on their phones. "
And this is where far too many businesses fall short today (not that everyone's perfect on desktop, of course). Your customers are moving to mobile in a big, big way. Millennials live on mobile, all day, every day, and have begun to outnumber every other demographic segment. It's not enough, though, to simply provide a mobile website or app. You've also got to engage your customers in a way that makes them feel good about their purchase decisions when they buy from you. Or watch as your competition wins the sale. Now, how would that make you feel?
Looking to learn still more about how your customers' changing behavior shapes e-commerce and marketing? Be sure an register to receive a special report I've produced in conjunction with hotel marketing firm Vizergy, "Digital Hotel Marketing in a Multiscreen World." While it's targeted specifically at hotel and resort marketers, the lessons apply to just about any business. You can get your free copy of the report here.
You can also check out these slides I had the pleasure of presenting recently about how to lead mobile-focused digital transformation within large organizations (a topic we've been talking about a fair bit lately). Here are the slides for your reference:
And, finally, you might want to take a look at some of our past coverage of the e-commerce, mobile commerce, and digital marketing overall, including: