We've Reached Another Mobile and Millennial Milestone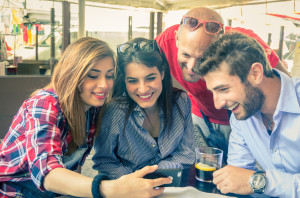 Interesting data from Marketing Charts about another mobile and millennial milestone that shows "Smartphone-owning Millennials (19-33) are more likely to expect brands to have a mobile-friendly website or app (55%) than they are to expect brands to have a social media presence (39%)."
This shouldn't be news.
This isn't to diss social. But, your website must represent the hub of your online marketing activities. This remains true even in a world where mobile changes everything (and changes nothing at all):
"Specifically, it all comes down to how your customers use mobile. It's pretty clear that mobile changes customer behavior pretty radically. Yet, at the same time, mobile doesn't change customer behavior at all.

Your customers' new behavior is fairly straightforward. Mobile provides customers access to all the information they need to make an informed purchase, wherever, whenever, and however they want. That's very new. What's also new is the speed with which they've adopted these behaviors. Responsive design and in-app advertising can help ensure you appear whenever customers go looking for a solution, wherever they happen to be."
As I've mentioned before, "Mobile isn't a separate channel; it connects all channels."
Millennials live their lives with their mobile close at-hand —and, increasingly, so does everyone else. You ignore that reality at your own peril.
So, sure, use Facebook and Twitter and LinkedIn and Google+ and Tumblr and whatever else comes down the pike, where they help your brand and your business. Just make sure you're also ready to drive the folks you find there back to your own site, regardless of the device they use. Or risk losing those folks to those competitors that do.
If you want to learn even more about how customers changing behavior shapes e-commerce and marketing, be sure an register to receive a special report I've produced in conjunction with hotel marketing firm Vizergy, "Digital Hotel Marketing in a Multiscreen World." While it's targeted specifically at hotel and resort marketers, the lessons apply to just about any business. You can get your free copy of the report here.
You can also check out these slides and video from my recent webinar, "Digital Marketing Directions: Three Key Trends Driving Your Marketing Next Year":
And, finally, you might want to take a look at some of our past coverage of the e-commerce, mobile commerce, and digital marketing overall, including: