Why Google+ Matters to Your Content Marketing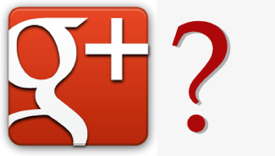 After putting together the list of the most shared posts in 2012 the other and trying to figure out what that says about 2013, I noticed a weird pattern. It seems that you shared the same posts most often across Twitter, Facebook and LinkedIn… but not Google+.
In fact, 4 posts from last year were very popular on Google+, but almost nowhere else in terms of social sharing. First, here's the posts:
OK… why the discrepancy? What does the popularity of these posts on Google+ tell you about marketing your content on Google's social site (or anywhere else for that matter)?
Well, the first one's easy. It's not a big surprise that content about Google+ would be popular on that network, now is it?
But what about the other three? Each talks about something different: social/moblie trends, content marketing, product management (though each falls broadly into digital marketing).
What do those three (or four) have in common?
I actually think the answer is hidden in the question. I think the three are popular on Google+ because… they're popular on Google+. Now hang in there for a second and I'll explain what I mean.
Twitter and Facebook are two of the most popular sites on the Web, drawing hundreds of millions of users every day. Supposedly, so does Google+. LinkedIn attracts a very different crowd, consisting almost entirely of business users. But when I use these sites, or watch others use them, I see very different behaviors among their users.
Twitter and Facebook attract "general" users, people just going about their ordinary day-to-day lives. LinkedIn, to a lesser degree, does the same (albeit professional types). Many consumers seem to segment their lives, using Twitter and/or Facebook to keep up to date with "real" friends and LinkedIn for keeping in touch with business associates.
But Google+ seems to attract a different type of crowd altogether. Instead of communities of friends, family or colleagues, Google+ seems to be more about communities of interest. Its users share and discuss content they find interesting, educational or enlightening (not that there aren't "I can haz cheezburger," LOLcats-type posts on Google+, too).
So my theory is that the people on Google+ are different than the folks on Facebook, Twitter or LinkedIn. The content that gets shared there does so because it appeals to a different audience than the more "general purpose" Facebook/Twitter/LinkedIn triumvirate.
At least, that's what I think.
What about you? Am I missing something obvious? Is there more to this than meets the eye? I'd love to hear your thoughts. Feel free to drop me an email or leave a comment about what you think is happening here.
Oh… if you're interested in 2013 trends register for my upcoming Biznology Webinar: "It's All E-commerce: How the Social, Local, Mobile Web Affects Sales Online and Offline." It should be worth sharing with your friends on Facebook, Twitter, LinkedIn and Google+.
---
If you can help those dealing with the after-effects of Hurricane Sandy, please visit the American Red Cross.
Want to make sure your business makes the most of the local, mobile, social web? thinks helps you understand how to grow your business via the web, every day. Get more than just news. Get understanding. Add thinks to your feed reader today.
And while you're at it, don't forget to follow Tim on Twitter.
Tim Peter & Associates helps companies from startups to the Fortune 500 use the web to reach more customers, more effectively every day. Take a look and see how we can help you.