10 Can't Miss Mobile Commerce and Marketing Columns: The Top Posts from February 2015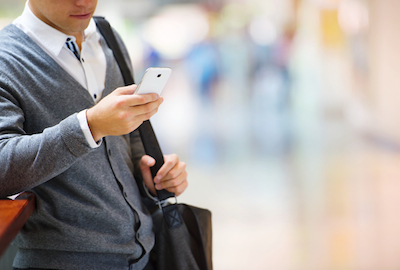 Wow, how time flies, Big Thinkers. Can you believe we're already into March and have the end of the first quarter coming up fast? Now that the calendar's turned to a new month, it's time once again to round-up the top posts from the past month and see what you read, liked, and shared most often over the last month. Without further ado, here are 10 can't miss mobile commerce and marketing columns: the top posts from February. Enjoy:
Mobile e-commerce played a huge role in the top posts from this past month. For instance, this E-commerce Link Digest collection of "8 Must-Read Posts Connecting Content, Search and Mobile Commerce" rocketed to the top of this month's list, despite its publication late in the month. Clearly, this is a topic that matters to you and your fellow Thinks readers.
Continuing the mobile commerce theme, this post, "Mobile Will Disrupt Your Industry: 3 Ways to Protect Your Business," was hugely popular all month long.
Along the same lines, many of you read and shared this look at "Why Mobile Changes Everything—and Nothing At All." While it was posted in late January, it came too late in the month to make January's list.
Episodes of my weekly e-commerce and digital marketing strategy podcast, Thinks Out Loud, often do well amongst your fellow Big Thinkers, which probably explains the success of Episode 109, "E-commerce is More Than Just One Channel."
Another "late bloomer" from January was this look at "What Apple, Google, and Facebook's Earnings Can Teach Us About Mobile Marketing and E-commerce." The answer: a lot.
This quick post from early in the month says "We've Reached Another Mobile and Millennial Milestone" as well as what that means for your business.
Episode 109 of Thinks Out Loud, "Mobile E-commerce Goes Back to the Future," further reinforces the mobile e-commerce theme so popular among you and your fellow Big Thinkers this past month.
This entry from our ongoing E-commerce Link Digest series, "20 Terrific E-commerce Insights for a Long Winter's Nap," cracks the list at #8 this month. Good stuff.
We've spent a lot of time over the last week or so looking at the connections among content, commerce, and customer experience. "How Customer Data Drives Satisfaction and Increased Revenues" explored the role data collection and use plays in engaging with your customers, while Episode 112 of Thinks Out Loud says "Want to Own the Customer? Own the Data."
And, finally, this episode of Thinks Out Loud asked "Is Customer Experience the Future of E-commerce?" The answer, as you might guess, is "yes." But the devil's in the details. Make sure to listen to the whole thing to get the bigger picture.
Want even more? Then be sure to check out these collections of prior top posts including our round-up of the top posts from 2014, these "10 Must-Read Marketing and E-Commerce Missives: The Top Posts from January," these 10 Exceptional Marketing and E-commerce Essays: The Top Posts from November, and these "9 Must-Read Marketing and E-commerce Gems: The Top Posts from October", as well as the ongoing the E-commerce Link Digest series. They're all worth your time and will help you improve your overall e-commerce and digital marketing results next year.
And if you want to learn even more about how customers changing behavior shapes e-commerce and marketing, be sure an register to receive a special report I've produced in conjunction with hotel marketing firm Vizergy, "Digital Hotel Marketing in a Multiscreen World." While it's targeted specifically at hotel and resort marketers, the lessons apply to just about any business. You can get your free copy of the report here.
Plus, don't miss these slides and video from my recent webinar, "Digital Marketing Directions: Three Key Trends Driving Your Marketing Next Year":
And, finally, you might want to take a look at some of our past coverage of the e-commerce, mobile commerce, and digital marketing overall, including: