10 Essential Lessons Learned From HSMAI's Digital Marketing Strategy Conference (Travel Tuesday)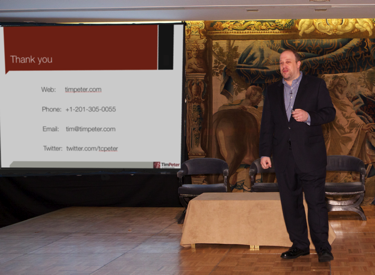 I had the pleasure of moderating a panel, "Is Search Still Search as We Know It?" which featured a wonderful collection of search marketers from the industry and from Google earlier today as part of HSMAI's 2014 Digital Marketing Strategy Conference, an annual event here in New York City.
In addition to my panel, I learned loads of useful information from the panelists and speakers at the event. Here were my favorites:
Mobile's bigger than you thought. I've said this before, but mobile is huge. some 97% of all Americans have a cell phone within three feet of them at any given time. Jeez.
The growth of "PR engineers." A number of brands have begun hiring digital analysts solely to measure the effectiveness of PR activities. Not a shock, really, but the first time I'd run into the term. Definitely worth watching.
Customers remember how you made them feel, not what you said. I've talked before about how reputation management matters to improve your marketing, but this is such a brilliant, succinct way to underscore the point. Emotion powers memories. People will remember the feeling of a great experience — or a poor one — far longer than they'll remember anything else. Emotion sells. Use it to your advantage.
Responsive and adaptive design are increasingly important. As one panelist noted, responsive design (which I talked about yesterday), is more about reorganizing what you see, while adaptive design uses personalization to show different content to different people. Both bring value.
Your company's data represents a strategic competitive advantage. Internal data will always be more important than 3rd-party data, since your competitors use that data to.
Big Data works well for actionable, real-time e-commerce decisions. Great examples of companies using big data to analyze e-commerce transactions and react in real-time to outliers (i.e., increased or falling demand to adjust prices in real-time).
Mobile doesn't have a conversion problem, it has a tracking problem. Maybe my favorite line of the conference. So, so true. I've already noted the growth in mobile but it's not always possible to see the results. The problem isn't with mobile. It's with your attribution models.
Use Foursquare tips in website content. Another great idea. I've used TripAdvisor content on sites plenty of times, but never thought about Foursquare tips. Great idea.
Images sell. Again, not a new learning, but so worth noting. What's interesting is the move towards "Retina-ready" images, high-resolution images optimized for high-resolution displays now offered by Apple and Google on their mobile devices and high-end computers. And, they'll prep you we'll as consumers move towards larger, 4K displays. Good thinking.
Stories are vehicles for values. Again, not a new lesson, but incredibly valuable to say again. As Josh Johnson says, "No one wants to share your data. They want to share your story." Great insights into the importance of brand story.
Speaking of storytelling, you may also enjoy these slides from another recent speaking engagement "Elements of E-commerce: How Digital Storytelling Drives Revenue and Results" here:
If you're interested in learning even more about the future of e-commerce and marketing via the social, local, mobile web, register to receive a special report I've produced in conjunction with hotel marketing firm Vizergy, "Digital Hotel Marketing in a Multiscreen World." While it's targeted specifically at hotel and resort marketers, the lessons apply to just about any business. You can get your free copy of the report here.
You might also enjoy some of our past coverage of the social, local, mobile web and what it means for your business, including: