2015 Travel E-commerce Trends Worth Watching: Digital Wallets (Travel Tuesday)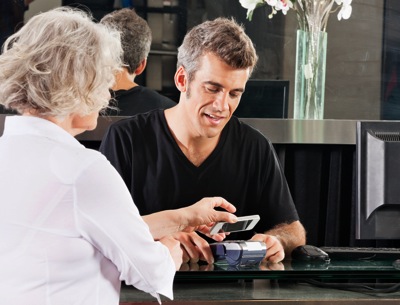 Skift has an interesting breakdown of Priceline's integration of Apple Pay into its booking process, stating how Apple Pay — and digital wallets, generally — will become a standard option for travel brands, stating the following:
"With its roll out of Apple Pay last week, Priceline.com didn't become the first booking site to integrate Apple Pay into a mobile app as HotelTonight did so in October. Priceline is certainly the biggest booking site to integrate the technology, though, and its marriage with Apple Pay signals a new era of on-the-go bookings leading to an even faster checkout process."
I've highlighted this trend before:
"Today, your customers use credit cards to make their purchases because they're the simplest, most cost-effective options available. But recent moves like the introduction of Apple Pay — combined with the recent card hacks suffered by merchants like Target and Home Depot — are starting to change the game for mobile commerce specifically, as well as for e-commerce overall.

Why?

Because, these new products are safer, more secure, and, when done right, easier than swiping a card. The essentially required shift away from "swipe and sign" cards coming next year will only accelerate the trend. I don't think this is all about Apple, mind you. I expect Google to improve its Wallet app's usability in the coming months to more effectively compete with Apple Pay, along with any number of competitors to emerge."
Digital wallets will represent a serious game-changer for e-commerce — in all industries, really, but in particular for travel and hospitality. Remember, when a customer "purchases" in travel, they're almost always in practice scheduling an appointment for some later experience. There's no physical product and these experiences are often booked "on the go." The fewer barriers that exist — the easier you make it to help your guests and passengers hand you their money — the more likely they actually will.
And, that's exactly why Skift is likely right. Whether it's Apple Pay, Google Wallet, PayPal, Square, CurrenC, or (most likely) some combination of these, digital wallets are coming. It's time to get ready.
If you're interested in learning even more about the future of hospitality e-commerce and marketing via the social, local, mobile web, register to receive a special report I've produced in conjunction with hotel marketing firm Vizergy, "Digital Hotel Marketing in a Multiscreen World." Developed specifically at hotel and resort marketers, the lessons can help your business adapt to the changing guest environment. You can get your free copy of the report here.
You might also want to review this presentation that outlines three trends driving hotel marketing in 2015:
Finally, take a moment to review some of our past coverage of the social, local, mobile web and what it means for your business, including: