Over 2 Billion Smartphones by 2015?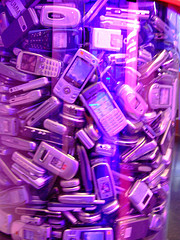 Here's a crazy thought: What if mobile is a much, much bigger opportunity than anyone realizes? The Next Web highlights a Strategy Analytics report suggesting that smartphone use will double again in 3 years — to over 2 billion devices:
"What's particularly interesting is where things will go next, since there remains much room for growth. The analyst firm estimates that just one in seven of the world's population owns a smartphone in the third quarter of 2012. Yet it believes that the next billion devices could be reached within less than three years, thanks to a combination of factors which includes lower costs, fast-growing markets like China and continued momentum."
To put that in context, Internet World Stats suggests that the entire Internet only passed 2 billion users (roughly 30% of the world's population) early in 2011. And while most of the developed world has significant Internet penetration (~79% in North America, 64% in Europe), Asia and Africa have MASSIVE upside (only about 28% and 16% penetration, respectively).
Not coincidentally, that's where Strategy Analytics' report suggests much of the mobile growth will occur. Of course, even if you aren't thinking of selling in Asia or Africa, the U.S. has only about 47% smartphone penetration, with plenty of room to grow.
I've suggested that mobile's tipping point is here. Apparently, though, it might not be a tipping point. It might be a landslide.
---
Are you getting enough value out of your small business website? Want to make sure your business makes the most of the local, mobile, social web? thinks helps you understand how to grow your business via the web, every day. Get more than just news. Get understanding. Add thinks to your feed reader today.
And while you're at it, don't forget to follow Tim on Twitter.
Tim Peter & Associates helps companies from startups to the Fortune 500 use the web to reach more customers, more effectively every day. Take a look and see how we can help you.