7 Steps to E-Commerce Heaven
This one's a work in progress, but I'd love your thoughts. As I see it, your customers no longer experience the traditional marketing funnel, traveling from awareness through desire to intent and, finally, action. Those days are gone.
Why? Well, the web, mostly. In its place, your customers experience many of those elements simultaneously as they browse, shop, and buy, using search, social, in-store, outdoor, print, broadcast, and on and on and on to come to a purchase decision — and, ultimately, satisfaction.
As a result, your customers cycle through a variety of phases while seeking the solution that will satisfy their needs, including:
Dreaming
Discovery
Research
Purchase
Anticipation
Consumption
Remembering
Or, for those of you who prefer graphics: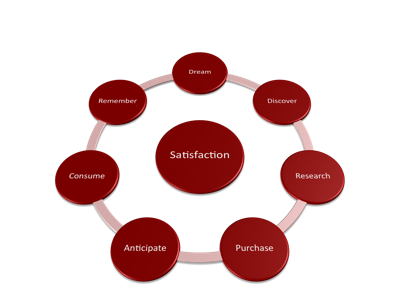 Now, I would suggest that you not look at this as a "cycle" in the sense that one phase leads to the next. While it looks like most customers go through each of these phases at some point in the process, they often experience more than one phase simultaneously based on the information they're finding and absorbing.
So the question becomes one of how well you're able to answer their questions at each point in the process and, ideally, move them towards the ultimate phase: satisfaction.
Unfortunately, many e-commerce experiences right now don't do enough to help that along (and don't get me started on mobile).
What do you think? Is e-commerce doing enough to help customers on their journey? Or is there still a long way to go?
Interested in learning more? Register to receive a free copy of my new special report, "Digital Hotel Marketing in a Multiscreen World," produced in conjunction with Vizergy, here. While it's targeted to the hospitality industry specifically, most of the lessons apply across verticals. And, if that's not enough, you might also enjoy some of our past coverage of the social, local, mobile web, including: