A Marketer's Quick Guide to Pinterest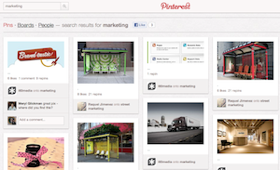 Everywhere you go, Pinterest has reached new pinnacles of interest among marketers and small business owners (see what I did there?). According to Mashable, Pinterest is driving more traffic than Google+, LinkedIn and YouTube combined.
But what is Pinterest, what's it good for and why should you care?
Here are a few insights into the emerging social sharing site and what it means for your business:
As it happens, I don't agree with Forrester. Yes, Pinterest has attracted tons of hype. And, yes, it's entirely possible the site will fail to live up to its early buzz ('cause, y'know, that's never happened).
But, Pinterest—as well as Facebook, Twitter and Tumblr—also highlights a key shift in social media. The traditional world view suggests that 1% of all users in social media create content, 9% comment on it and the remaining 90% consume that content.
And while that certainly used to be true, I suspect the numbers have shifted heavily in favor of sharing content, too.
Now, people who used to comment can do more than just comment; they can spread the word about something that catches their Pinterest… whoops, excuse me… interest, with just a click (along, of course, with their pithy comment). More importantly, the formerly passive consumers can do the same thing. Social media is as much about curation as it is about creation. Which is why I suspect Pinterest, or at least the behavior it inspires, will be with us for a long time to come.
---
Are you getting enough value out of your small business website? Want to make sure your business makes the most of the local, mobile, social web? thinks helps you understand how to grow your business via the web, every day. Get more than just news. Get understanding. Add thinks to your feed reader today.
And while you're at it, don't forget to follow Tim on Twitter.
Tim Peter & Associates helps companies from startups to the Fortune 500 use the web to reach more customers, more effectively every day. Take a look and see how we can help you.
Technorati Tags: content marketing, F-commerce, Facebook, facebook, integrated marketing, internet business, internet marketing, social, social commerce, social marketing, social media, social media predictions, social search, social strategy, Tumblr, twitter, Pinterest