How the Best Hotels Own the Guest (Travel Tuesday)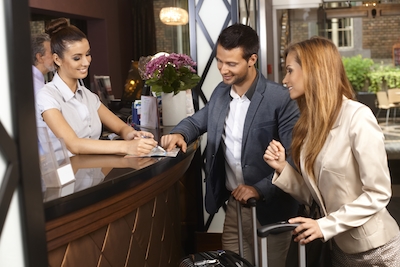 Just yesterday, I was talking about who owns your customer and how new entrants can seize that relationship. Hotel marketers have been dealing with this challenge more than most. Not only have the established OTA's been competing for your guests for some time, but loads of new entrants have come on strong lately, include folks like TripAdvisor moving into bookings, Airbnb offering a differentiated product, and even Google getting deeper into the transactional space.
Recent consolidation among major players like Expedia/Orbitz/Travelocity (or "Expe-Orbi-Ocity," as Vikram Singh memorably labeled the travel giant), only compound the problem, potentially providing these major players even more leverage in the race for putting feets in sheets.
So, what's an independent hotel, management company, or beleaguered brand to do? How do the best hotels own the guest, from discovery through booking? During the stay and beyond?
Well, for starters, you've got to focus on guest needs. Hospitality, by its very nature, revolves around providing guests personalized, welcoming service. And guests really just want to know two things:
"Will I enjoy my stay?"
"Why should I book that stay with you and not with an OTA?"
You know your market and your property better than anyone. Use your content to tell your brand story effectively and help guests understand what they can and should expect while on property. Encourage guests who've had a pleasant stay to tell their friends and family and fans and followers all about it. And use your guest data not only to place the right offers in front of the right guests, but to help your hotel staff meet guest needs, as well.
As Priceline CEO Darren Huston recently explained, highlighting your brand value matters. This is the guy responsible for Booking.com stating outright that there's more to capturing guests than simply taking responsibility for the booking.
There's no question that many, many players compete with you to own the guest. That's unlikely to change anytime soon. Sure, some consolidation will occur. But plenty of new players will undoubtedly emerge to fill the spaces left behind. Instead of worrying about those folks, do what the best hotels do and worry about your guests. Because the only way to own the guest is to own their experience, every step of the way.
If you want to learn even more about how customers changing behavior shapes e-commerce and marketing, be sure an register to receive a special report I've produced in conjunction with hotel marketing firm Vizergy, "Digital Hotel Marketing in a Multiscreen World." While it's targeted specifically at hotel and resort marketers, the lessons apply to just about any business. You can get your free copy of the report here.
And take a moment to review the slides from my recent webinar, "Digital Marketing Directions 2015: Three Key Trends Driving Your Hotel Marketing Next Year" here:
Finally, you might also want to check out some of our past coverage of the mobile, local, social web and how to make it work for your business, including: